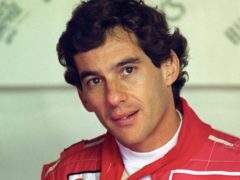 A portrait of Brazilian Formula One star Ayrton Senna will go under the hammer 25 years after his death.
Ayrton Senna – who died on May 1, 1994 – was a three-time world champion and widely regarded as one of the greatest Formula One drivers of all time. Here, Press Association Sport delves into the archives to look at some of the best images from his remarkable career on the track.
A quarter of a century after Ayrton Senna was killed in a car bearing her family's name, Claire Williams is reliving the tragedy of Formula One's darkest day.