A film has launched in Dundee shining a light on mental health issues faced by young people in the city.
"Foolish Optimism" follows three young people with mental health problems, living across Scotland, and its premier coincided with World Mental Health Day on Wednesday.
The project is being organised by a group of 12 people – the majority of whom are under 30 and have experienced mental illness.
Jacqueline Goodall, 20, an art student from the West End, is involved in creating campaign posters for Foolish Optimism.
She has faced mental health issues from a young age and wants other people to open up about their own feelings.
Jacqueline said: "I think everyone has been touched by mental health problems in some kind of way – there's probably people still that don't know how to speak up about it or what is happening to them."
Jacqueline creates artwork as an outlet for her thoughts and emotions.
She said: "I have had my own experience with mental health issues which I only came to terms with at the start of 2018.
"For the past year, I have been making art about mental health and about how I was feeling.
"I made a piece called 'I get no sleep' and, at first, I used hidden messages because I wasn't opening up about it."
After asking for help more than six months ago, Jacqueline is still on the waiting list for mental health treatment on the NHS. She said: "You're left for so many months on your own, in the dark.
"Students can often be put under a lot of pressure that creates underlying stress.
"Having a job and being a student is really stressful because you don't get a lot of money from student loans and you do also need to have some kind of social life – it's difficult to juggle it all."
The aspiring art therapist is involved in the project because she wants to help other people facing similar issues.
"At your darkest times, you do think you're going through it by yourself, but you aren't alone in how you feel and I find that really comforting," she said.
"If I touch just one other person at least, then my job as an artist is done."
Marc Ferguson, 29, an online campaigner for Foolish Optimism, has suffered from anxiety and regular panic attacks in the past.
He said: "At first I had no idea what was going on – I thought it was a physical problem because of the chest pain I was experiencing.
"I just got worse and worse and I realised it was work–related."
Marc, from Douglas, left the job that was causing him stress and discovered his own way of managing anxiety.
He said: "I didn't go for cognitive behavioural therapy but I looked up grounding techniques which I use to try and stop retreating into my own mind."
The project is important to Marc because it reminds young people that many others have had similar experiences with mental health issues.
He also thinks it is important for young adults to open up about their mental health because it will lead them to live a fuller life.
He added: "Mental health problems have a massive impact on the workforce, and young people who come into jobs might not be prepared to enter a high pressure environment.
"If they are properly prepared, they will be more equipped for success."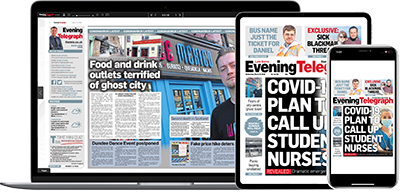 Help support quality local journalism … become a digital subscriber to the Evening Telegraph
Subscribe