Workers who were made redundant by the collapse of a Dundee electrical firm have told how they were left out of pocket when the firm closed.
An event was held at the city's Apex Hotel to help some of the 99 workers affected by Scottish Electric Group's liquidation try and find new jobs.
Among those was Grant Ellis, 28, from Coldside, who had worked as an electrician at the firm for nearly two years.
He told the Tele: "We got paid short in our last pay and we figured it out from there. But we never got told anything.
"I've been looking for work since, trying to get a job. I just want a job — I've got family to look after and a mortgage to pay.
"Some companies which I was expecting to be here haven't turned up."
Meanwhile Charles Ritchie, 58, has also launched a search for a new job since the company closed last week.
He said: "There were rumours beforehand and in the last while we weren't getting supplies for the work we had to do.
"Word came in that there was new money and the supplies started coming again — and then the next thing was, that was it.
"Nobody got any warning, no warning at all. We never got paid for the last week and a half.
"I had to cancel my holiday plans since I wasn't going to get holiday pay.
"I've got a job lined up now and I start on Monday.
"I came to join the union because they said they can help us out with redundancy pay. We got absolutely no notice we were being laid off.
"The younger ones have been hit hardest by this.
"I've been through this before, but I didn't think it would happen again. You just never know."
National redundancy partnership Pace held Thursday's event.
Rose-Marie Stewart, of Skills Development Scotland, which chairs the Pace group, said some companies had already agreed to take on laid-off apprentices and workers.
She told the Tele: "More than 30 people came along to the event and we had 12 employers with job opportunities.
"There were also more than 20 vacancies available at companies who couldn't make the event."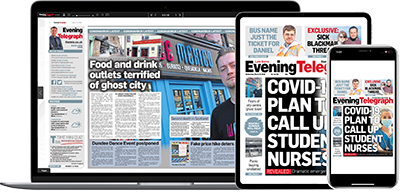 Help support quality local journalism … become a digital subscriber to the Evening Telegraph
Subscribe