The views of Dundee young people will help shape a delivery model for the provision of free sanitary products in local schools.
The children and families service committee will hear on Monday that the products will be available locally for all eligible primary and secondary pupils.
This will also include those educated at home.
Access to sanitary products will include weekends and schools holidays.
Beginning in August, the roll-out of the programme will be complete by the end of that school year.
Feedback from young people will also be helpful in the process on an ongoing basis.
Robyn Todd, social media co-ordinator at Dundee Youth Council, said: "We have been working closely with Monica Lennon MSP, the city council and young females in Dundee on the implementation of basic sanitary products to be included in a wide range of facilities in the city.
"Dundee Youth Council is very happy to support the council in its steps torwards female empowerment and health."
Children and families service convener Councillor Gregor Murray said: "This is a much-needed development and I would like to thank the Scottish Government for making it possible.
"It is absolutely crucial that our young people can tell us how to plan the delivery model in a way which is of most use to them."
The councillor added: "I am keen that we can deliver this sensitively.
''Our pupils and partners will have a real input into how we deliver this service across the city.
''This is yet another way that we are tackling poverty and making Dundee a fairer city for everyone."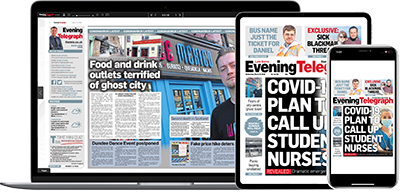 Help support quality local journalism … become a digital subscriber to the Evening Telegraph
Subscribe