Planned changes to a number of bus routes in the city have been postponed until the new year.
Xplore Dundee said it was delaying its review of services, which mainly affect the West End, Charleston, Loons Road and Milnbank Road, until January.
The company had previously notified Dundee City Council that the changes would come into effect from October 21.
Xplore's managing director Christine McGlasson said the bus operator wanted to "ensure we are making the best decisions to improve services for as many customers as possible".
"We've taken another look at the timing of this network review in light of future plans for services in the north of the city," she said.
"Taking into account the results of our 32/33 route review in Fintry and the ongoing development in Whitfield, we're aware that routes in this area are also facing changes to ensure they are efficient and punctual.
"Rather than confuse passengers with two separate timetable reviews, we have decided to implement these all at once, in the new year.
"We will take this opportunity to talk to customers and community groups to ensure we are making the best decisions to improve services for as many customers as possible."
The changes, which Xplore said would "improve service punctuality and address passenger suggestions" affect the 1a/1b, 4, 5, 9/10 and 29.
In some cases, it means streets will no longer have active bus stops and lose their connection to Ninewells Hospital.
The plans received a mixed response when they were announced last month. West End local Linda Groat, 51, who has MS and finds walking distances difficult, said the postponement would give her time to "make a good protest about it".
"It is something I am passionate about and I am sure that there are other people in the area that are passionate about it as well," said Linda, who uses the number 5 which could bypass her street come January.
"There are loads of people down this way and not everybody has got a car.
"I'm not asking for a full-blown service, even just a couple of buses a day."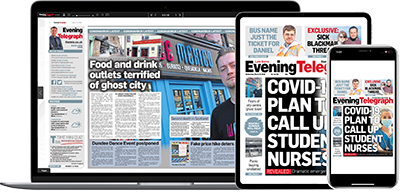 Help support quality local journalism … become a digital subscriber to the Evening Telegraph
Subscribe