Local bus firm Xplore Dundee has revealed its finalised plans for revised bus routes in the north-east of the city.
The company, responsible for most of the city's bus services, has been planning to shake up the 32 and 33 routes for some time.
Both are often affected by delays because of heavy congestion on Forfar Road – but under the new plans, the routes will cross the Kingsway at Pitkerro Road instead.
The 32 service will then turn on to Glenconnor Drive, head for Fintry Road and terminate at Findowrie Street.
Meanwhile, the 33 will travel up Longhaugh Brae, turning on to Fintry Drive shortly after Longhaugh Police Station.
It will then travel the length of Fintry Drive before turning back on itself – but Xplore is in talks with Dundee City Council to have the bus cross the A90 and reach Charles Bowman Avenue.
The plans were laid out before members of Fintry Community Council last night.
Marc Winsland, commercial assistant at Xplore, told the group the plan had the support of 45% of local people who were consulted on the plans.
"The way we're looking at doing things, the north end of Mill o' Mains could benefit from a better service than it has had before," he said.
"We're not going to put an end to delays – that's impossible. But we're trying to mitigate and minimise these delays."
As well as cutting journey times by an average of five minutes – based on studies carried out when buses were re-routed by roadworks – the changes will also open up opportunities to better serve north-east communities.
A key link suggested as part of the proposal is a direct link to the North East Campus for pupils in Linlathen who attended the old St Francis RC Primary.
While the revisions would mean the 32 and 33 no longer serve the Crescent in Whitfield, Xplore also aims to revise the 15 service to better serve new housing developments springing up nearby.
The 15a (anti-clockwise) and 15c (clockwise) would split at the junction of Lothian Crescent and Whitfield Drive, with one serving Berwick Drive and the other Lothian Crescent.
Xplore bosses hope such a plan would cut journey times for those heading into the city centre.
The firm hopes to introduce all of the new changes in the new year, following discussions with the council.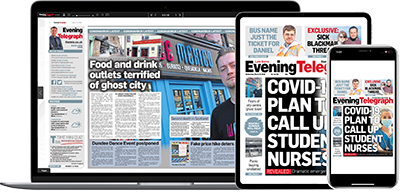 Help support quality local journalism … become a digital subscriber to the Evening Telegraph
For as little as £5.99 a month you can access all of our content, including Premium articles.
Subscribe