BUS bosses have apologised following claims dozens of services have been cancelled in the last few weeks.
Xplore Dundee says a shortage of drivers is causing serious disruption to routes throughout the city.
One passenger claims he spent almost an hour waiting for a service as a result.
The Tele understands dozens of cancellations have occurred, with many being announced on electronic boards at bus stops.
Normal service is still to resume, but a spokeswoman for Xplore Dundee said they are "seeing improvements".
She said: "We're sorry for the disruption currently affecting some of the services in our network and for any inconvenience caused to customers. We're currently experiencing operational difficulties due to a temporary driver shortage. This issue is being actively worked on and we are already seeing improvements.
"To keep passengers up to date, the real time information boards within shelters are programmed to show any change to services. All the relevant authorities have been informed of this situation and are being updated regularly on our progress.
"Once again, we apologise for this short-term reduction in service and want to reassure customers we're working very hard to resolve this as quickly as we can to resume normal operations."
A spokesman for the Traffic Commissioner's office, which deals with complaints relating to bus operators, said they were aware of the current issues in relation to the punctuality of Xplore Dundee services but could not comment on a pending case.
Back in June, the Traffic Commissioner fined Xplore Dundee £8,700 after repeated complaints about late and early-running services throughout the city.
A report was submitted by Bus Users Scotland about punctuality failings and the services cited included the 9, 10, 15, 17 and 23 buses.
The financial penalty was imposed after the Traffic Commissioner opted not to pursue a further investigation into the issues.
One bus user, who wished to remain anonymous, said he found himself waiting almost an hour for a bus to Charleston last week. He said: "Journeys are basically going missing as far as I can see.
"I have a family member who works for Xplore and it seems drivers are going off sick and they can't replace them.
"Myself and other people have been waiting up to an hour for buses – it's shocking.
"It was only the other week that I was waiting on a bus to go to Charleston and all I was seeing on the electronic board was that it had been cancelled.
"The company weren't able to send another one on and I was having to wait, that really shouldn't be happening.
"As far as I am aware this has been going on for quite a few weeks now. There's no signs of it getting any better but something needs to be done about it.
"I was informed that the Traffic Commissioner was aware of it so hopefully they will take it seriously."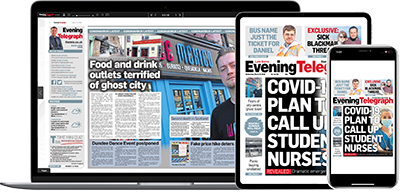 Help support quality local journalism … become a digital subscriber to the Evening Telegraph
Subscribe