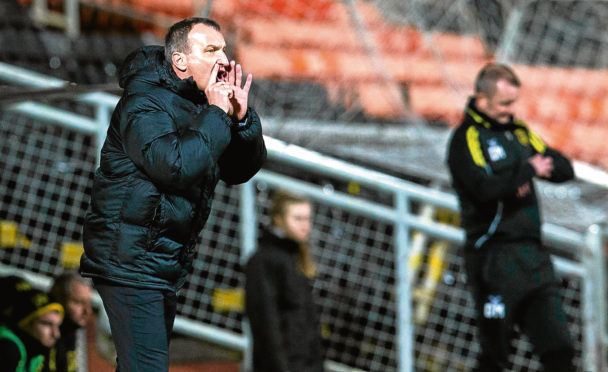 Despite their weekend hiccup, St Mirren remain 14 points ahead of Dundee United and many pundits have already declared the Championship promotion race is over.
That doesn't bother Tangerines boss Csaba Laszlo one bit — but he doesn't think automatic elevation to the Premiership has been decided just yet.
And with three games in hand on the Buddies, Csaba believes there's plenty of scope for his team to make things in the run-in very tight.
If United find form, he's convinced by the end of next week things can look a whole lot healthier for them.
"If people think the league is gone, let them. I will just concentrate on us," he said.
"I am just thinking about our upcoming games and I will concentrate on that.
"We know we have three massive games for us coming now. We have Livingston away on Friday, Queen of the South at home on Tuesday and then St Mirren at home on the Friday.
"If we can take the nine points from these games, then after we can see the table and how it is looking.
"After these games we can be closer and we will still have two more games to play than St Mirren do.
"Those extra games, they can be massive as well."
Csaba, though, isn't kidding anyone and accepts to finish in top spot would take a remarkable winning run. Knowing how tough this division is, he's also of the opinion United may yet get a help from others.
The Buddies have been on an unbeaten 10-game league run that's seen them win nine and draw one since losing to Dumbarton at the beginning of December but he can't see that extending all the way to the end of the campaign.
"I am realistic, for us to win 14 games in a row it is a big thing to ask.
"If we won 14 in a row we would win the league but it may not happen.
"What I do think is the other teams will drop points, I am sure about this.
"If this happens, we can make the most of it."
While the permutations regarding what might happen between now and the end of April are something he will look at, when it comes to his players Csaba wants them to be gazing no further forward than Friday night and the trip to the Tony Macaroni Arena.
After Livingston's 4-1 weekend win over leaders St Mirren, he knows that's going to be a tough one.
"Let's just take the next game, concentrate on that and then after look at the next one.
"This is the best way for us to go and after each game we can see where we are."
While performances on the park will determine if United can close that gap, not for the first time Csaba has stated the way in which the fans have continued to back their team can also provide an edge.
Several times since he took over in November he has praised the support both in terms of numbers and quality and he feels last week's Scottish Cup loss at Aberdeen was another example of how loyal they are.
"I am really proud about our fans because I think, OK we lost the game but at the end they were standing in the stadium when we lost the game and they were applauding.
"OK when they are critical we have to accept that but, on the other side in this defeat, they saw that the team tried what they could when they were at their limit.
"For this reason I really appreciated that this game against Aberdeen, also for the fans, gave us a little bit of hope."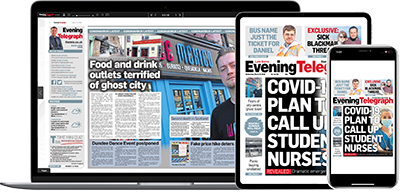 Help support quality local journalism … become a digital subscriber to the Evening Telegraph
Subscribe