A wrestling legend says he plans to sing Flower of Scotland when he takes part in an event in Dundee this weekend.
Lanny Poffo, known to millions as The Genius, will be appearing at Hell for Lycra.
The show, run by Scottish Wrestling Entertainment (SWE), is expected to attract more than 1,000 fanatics to the Caird Hall on Saturday, kicking off at 7pm.
While appearing as both Leaping Lanny Poffo and The Genius during his run with World Wrestling Entertainment (WWE) in the '80s and '90s, Lanny is perhaps best-known for being the younger brother of the late Macho Man Randy Savage.
He was on hand to posthumously induct his brother, a twice WWE Champion, into the company's Hall Of Fame in 2015.
Hell For Lycra has previously welcomed some of the world's most famous former WWE stars such as Million Dollar Man Ted DiBiase, Rowdy Roddy Piper and Hacksaw Jim Duggan.
Lanny said: "Jim Duggan is one of my best friends. He recommended me to the SWE promotion because I'm always on time and polite to the wrestling fans.
"I have been to many places in the UK but never anywhere in Scotland. I'm very excited to be going and the promotion promised they would help me do some sightseeing while I'm here.
"I'm the biggest fan of the singer Amy Macdonald. She sings Flower of Scotland at the big football games. It is on my bucket list to sing it in Dundee at the event.
"I have also heard of the Dundee Evening Telegraph – I was told it is read by Geniuses all over the city!"
Lanny is now retired from in-ring performances but will be on hand to meet and greet fans. The 63-year-old was one of the few wrestlers to defeat Hulk Hogan in the 1980s.
His sneaky Genius character was known for reciting derogatory poetry about his opponents before matches and for his trademark mortar board, gown and metal scroll – which was regularly used as a weapon when the referee wasn't looking.
SWE owner David Low said: "The Genius is our main guest of honour and hopes to bring poetic justice to Dundee. Lanny will also be bringing Randy's WWE Hall of Fame ring for all the fans to wear and get photos with."
Lanny added: "Wherever I go, I try to represent the fact that I am the brother of the immortal Macho Man Randy Savage. I'll have his Hall of Fame ring and let the fans wear it and get a picture together, as a keepsake they will remember for the rest of their lives."
Also appearing is Scottish star Grado – who shot to fame in the documentary The British Wrestler.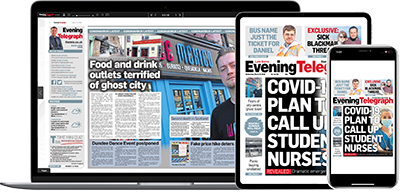 Help support quality local journalism … become a digital subscriber to the Evening Telegraph
For as little as £5.99 a month you can access all of our content, including Premium articles.
Subscribe