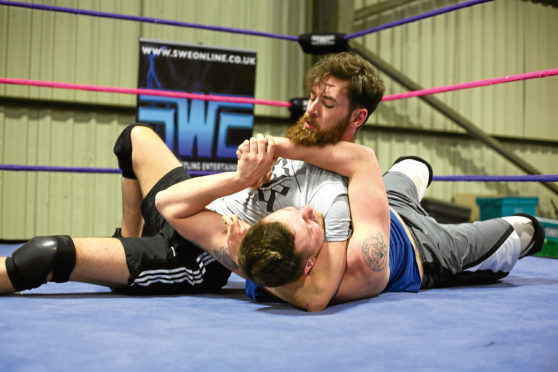 A Dundee wrestling company is on the hunt for a host of new grapplers after moving into a new training facility.
Scottish Wrestling Entertainment (SWE) has big expansion plans after moving back to Dundee, having spent most of last year operating in Blairgowrie.
Owner David Low is now looking to recruit a new squad of wrestlers to its base at Manhattan Works in Dundonald Street.
But training is also open to aspiring managers, referees and commentators.
The firm's move comes after the demise of Dundee-based 5 Star Wrestling, which was due to bring American stars Rey Mysterio and Rob Van Dam to the city.
David said he believes the new facility will give SWE the foundation to run "bigger and better" shows in the city.
He said: "It's really going to help us kick on and build from here.
"We've got about 24 students that we train and we're now in a position where we believe we can get more people in.
"We've got about 40 people on our waiting list for training so the response we have had has been amazing.
"It's not just about getting new wrestlers in though, there are a lot of people who would like to be referees and commentators and things like that. We've definitely seen a big increase in the number of people coming out to support us and that's been great.
"I think we're definitely getting a lot more respect for what we do than what we used to.
"We have still managed to bring in big stars, while promoting local talent.
"Having this new facility will definitely give us the chance to bring through more of our own talent and put on bigger and better shows in Dundee."