He is a man who could rival tragedian of Dundee William McGonagall for poetry to stir the emotions.
So it is fitting wrestling hero The Genius has been announced as the first guest at the Scottish Wrestling Entertainment (SWE) Hell for Lycra event in Dundee.
Lanny Poffo, who wrestles as The Genius and wears an academic cap and gown to the ring, is famous for his poems and limericks that ridicule his opponents before matches.
Dundee-based SWE has previously brought big names to the city including Million Dollar Man Ted DiBiase. Poffo is the younger brother of the late Macho Man Randy Savage.
SWE owner David Low said: "Lanny Poffo is the first of our three guests. This is bittersweet as we had planned on booking Randy Savage before his untimely death."
Poffo began wrestling in the 1970s before becoming a star in International Championship Wrestling, in which he held the promotion's title.
He started life in WWE in 1985 as Leaping Lanny Poffo and gained some infamy a year later by competing in full knight's armour.
He competed in a Battle Royal in 1987 when he was butted and eliminated by Andre the Giant, causing him to bleed heavily all over the floor and have to be carried out on a stretcher.
Poffo was subsequently reintroduced in 1989 as The Genius and his wrestling career was highlighted by victory over WWE World Heavyweight Champion Hulk Hogan.
Tickets for the show at the Caird Hall on Saturday August 18 are available now.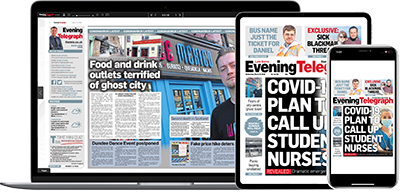 Help support quality local journalism … become a digital subscriber to the Evening Telegraph
For as little as £5.99 a month you can access all of our content, including Premium articles.
Subscribe