The number of new apprentices in Dundee has fallen over the last year, according to new figures.
Official figures showed the number of people taking part in apprenticeships had gone up across Scotland as a whole.
However, figures for Tayside saw new starts fall from 107 in the first quarter of 2017 to 85 in the same period this year.
It was reported about 10 Dundee apprentices were also made redundant this year. In 2018-19, the target for people starting apprenticeships across Scotland was set at 28,000.
This was in keeping with the Scottish Government's aim to increase apprenticeship starts to 30,000 by 2020.
The number of females taking on modern apprenticeships saw an increase compared to last year and more than half of apprentice starts were in the 16-24 age range.
North East region MSP Bill Bowman said: "These figures represent an unacceptable nosedive in this area."
Skills Development Scotland's Emma Diamond said the report cannot be treated as a "true reflection" of apprenticeship starts in Tayside.
She said: "This is only for the first quarter starts so it is too early on in the process to see how the year is going to pan out. The annual statistics are the highest they have ever been in Tayside and the achievement rate has improved too.
"Employers in Dundee continue to invest in apprenticeships to develop their workforce.
"Last year there were 725 new apprenticeship jobs in the city region – the highest number in the past five years.
"The year-on-year achievement rate of apprentices in Dundee city has also increased from 75% to 78%, ensuring the city's local economy continues to benefit from a pipeline of individuals with industry-led qualifications.
"Quarterly statistics aren't a true reflection of Modern Apprenticeship uptake across a whole year.
"As Modern Apprenticeships are jobs, apprentices can start and achieve at any time throughout the year.
"Apprenticeships are employer-led, with starts based on demand from employers across the country at any given time."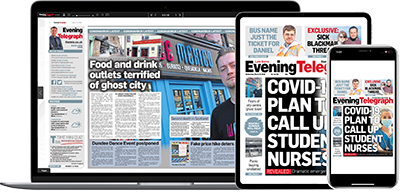 Help support quality local journalism … become a digital subscriber to the Evening Telegraph
For as little as £5.99 a month you can access all of our content, including Premium articles.
Subscribe