The world's only menopause festival will once again be held in Perth next year.
The first festival took place in the city this year, with four events in April and May.
Rachel Weiss, one of the organisers, said: "When we organised our first ever menopause cafe, we knew there would be some interest but we had no idea what would follow.
"It soon emerged that people really want to talk about this and to break through the silence that so many suffer from when it comes to the subject.
"We feel we have sparked a shift in the mindset of both women and men.
"To now be supporting women in organising menopause cafes and workplace events worldwide, as well as a second festival, is a fantastic outcome.
"We look forward to revealing the details of our speakers in the new year.
"Menopause cafe has gone on to become a registered charity with Scottish broadcaster Kirsty Wark as patron.
"What started in Perth is slowly being replicated throughout the UK.
"Menopause cafes have now spread throughout the UK and beyond, with more than 700 people having attended more than 60 cafes."
The festival will be held at Perth Theatre on April 26 and 27.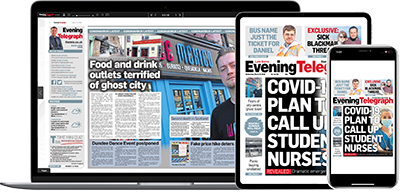 Help support quality local journalism … become a digital subscriber to the Evening Telegraph
For as little as £5.99 a month you can access all of our content, including Premium articles.
Subscribe