Dundee City Council care workers have warned they are "one step away" from industrial action.
The employees said they are on the brink of industrial action after councillors voted through changes last night.
During the meeting at city chambers, councillors voted 15-13 in favour of adopting a new policy on managing its workforce.
This includes a controversial revision of voluntary and early retirement, as well as voluntary redundancy schemes.
It also includes a change to shift patterns that workers fear will massively impact on their lives.
Boos and jeers could be heard coming from the public gallery as the decision was pushed through.
There was also chanting outside the city chambers which almost drowned out the debate going on inside, as protesters made their feelings clear in no uncertain terms with shouts of "shame on you".
Now trade union officials, who represent many of the workers, have said the council will have a fight on its hands.
GMB rep Susan Marnie said: "We will now need to go to our members, but there is a very strong mandate for industrial action.
"We are one step away from taking action and in the first instance, it is likely to be a work to rule."
Ms Marnie added: "This change to shifts could cost some of our workers £4,500 in their wage packets.
"We are not prepared to sit back and let that happen."
Council leader John Alexander said the local authority had never formally adopted a policy of making no compulsory redundancies.
He added that they would be considered only once all other options had been exhausted.
Council chief executive David Martin said: "The whole point about the policy was to demonstrate clearly and inarguably that the council is determined to avoid compulsory redundancies."
Liberal Democrat leader Fraser Macpherson has accused the council of backtracking on previous pledges.
The West End Councillor said: "We used to have a no compulsory redundancy policy.
"Now we have a policy of no compulsory redundancies as a last resort."
A motion to defer imposing the new policy until further talks with the trade unions was defeated by 15 votes to 13.
Meanwhile, Labour leader Jeremy Corbyn weighed into the row, voicing his support for the workers before the meeting in a video message read out by Jim Malone from the Fire Brigades Union.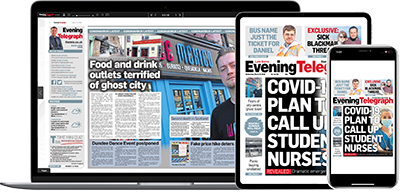 Help support quality local journalism … become a digital subscriber to the Evening Telegraph
For as little as £5.99 a month you can access all of our content, including Premium articles.
Subscribe