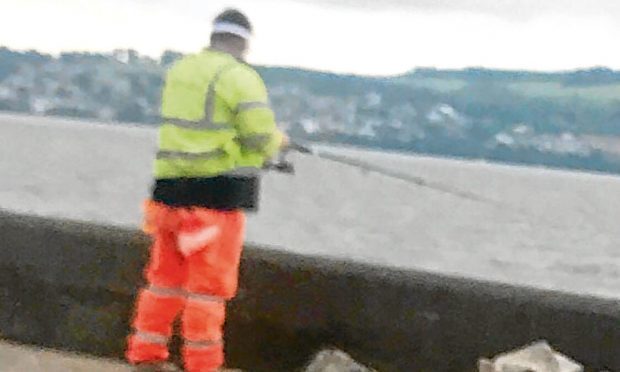 It's the £6.9 million project that will protect Dundee's sparkling new Waterfront from a devastating flood.
But one worker helping to construct the city's sea defences had bigger fish to fry — after going angling on his lunch break.
The man, clad in high-vis clothing, was spotted fishing in the Tay as he took time out of his work with Balfour Beatty in Riverside Drive.
He was clocked standing with a rod perched over the wall — hoping to catch a bit of free lunch.
Several colleagues looked on as the man tried to make the most of the vast natural resources next to his temporary workplace.
The motorist who stopped to take the snap told the Tele: "There were probably four other workers in a van watching this guy fishing. No wonder it's costing £6.9m."
A spokeswoman for Balfour Beatty confirmed that the man was on a break when he decided to try to get a bite from a creature in the depths of the river.
She said he was taking advantage of a popular fishing spot on the Tay.
She added: "I can confirm that the operative in the picture was on his lunch break.
"The spot in question is currently within the curtilage of the site, but when accessible by the public, it is a popular location for people to fish from."
The man declined to comment when approached by the Tele.
The Riverside Drive area has been a popular fishing destination for decades.
The Tay Bridge is a well-known eel hotspot but the whole area is said to fish well from early May to late October.
Ian Wilson, who runs Anglers Creel in Exchange Street, said: "You can fish a range there — cod, sea trout and crabs.
"There's plenty people that fish there and some of the clubs hold competitions in the area. I don't know if he would've been able to catch anything on his lunch break but it must be a good spot."
The £6,917,574 flood defence scheme has been hailed as providing "a one-in-200-year standard of protection" to the city's shores.
Once completed, it will run from Camperdown Dock to Dundee Airport.
The works include adapting the height of the existing sea wall.
The area where the man was seen fishing is where Balfour Beatty is set to work on the infrastructure already there.
In that section, the firm is also constructing new setback walls and installing floodgates to allow access for maintenance along Riverside Drive from Discovery Point to the Bridge View Station building.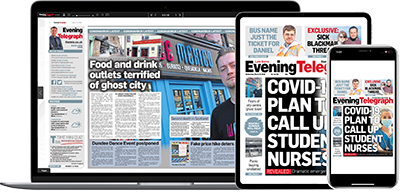 Help support quality local journalism … become a digital subscriber to the Evening Telegraph
Subscribe