Work will begin within weeks on a collapsed wall – but residents doubt it will be repaired within the promised timescale.
A 60ft section of the wall on Ellieslea Road came crashing down moments after Karen Arensbach and her three-year old daughter drove past in October.
Residents have been told the repairs are expected to start within four to six weeks.
They were told in August, when the work was originally scheduled to be complete, it would take 12 weeks to completely rebuild.
Jan Hampton, who lives nearby, says the timescale does not make sense — even if the work starts in four weeks, that would leave a little over nine weeks until the end of the year.
Mrs Hampton also noted as the autumn and winter weather comes in, the work will likely take longer to complete.
She said: "An architect told my husband you can't work on limestone when it's wet, so that will surely mean the workers will have to leave it some days.
"It's coming up to a year and the job is still to be done."
Councillor Craig Duncan welcomed the news.
He said: "I would like to thank residents. I have it in black and white that the work will be done by the end of this year."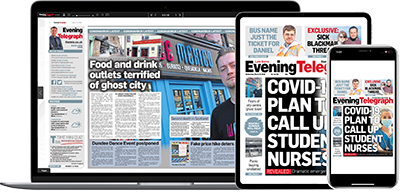 Help support quality local journalism … become a digital subscriber to the Evening Telegraph
For as little as £5.99 a month you can access all of our content, including Premium articles.
Subscribe