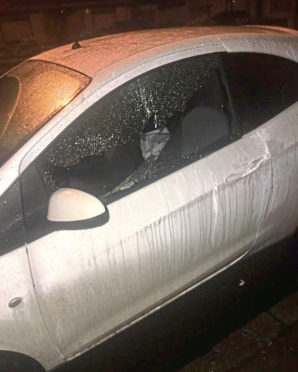 Police have launched an investigation after cars were broken into on a "busy" road in Barnhill.
Two vehicles were targeted in the early hours of Wednesday on Dalhousie Road.
A white Ford Ka had its window smashed along with another vehicle – believed to be a silver Hyundai.
Yannah Lamb, owner of the Ford, said the car's passenger window was broken before her handbag was stolen.
Yannah, 19, had been visiting family in the area before discovering her vehicle had been broken into shortly after midnight.
Items including a rose gold Pandora bracelet with a distinctive present charm and two love heart charms were in the bag, along with a purse and identification cards.
After finding the damage, Yannah and her cousin Shannon flagged down a passing police vehicle before doing some investigating themselves.
She said: "My car was on Dalhousie Road, it's a busy road so I'm surprised no one saw or heard anything.
"The police were looking over the car and helped to remove some of the excess glass from the window.
"We got into my cousin Shannon's car and drove past other cars to see if anyone else had been affected.
"There was a car parked near the Tesco filling station that had its window smashed as well. We contacted the police just to make them aware another vehicle had been targeted.
"I was more upset about my handbag being taken – the Pandora bracelet must be worth more than £200 with the charms.
"Police are saying the window could be anything upwards of £150 to fix. Given my age I don't know if its even worth going through my insurance."
A spokeswoman for Police Scotland confirmed officers were investigating the break-in and theft from Yannah's car.
She added it was unclear if any items had been taken from the other vehicle.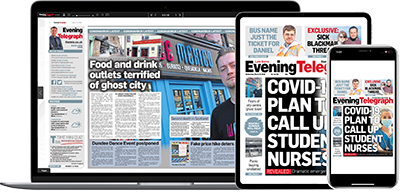 Help support quality local journalism … become a digital subscriber to the Evening Telegraph
For as little as £5.99 a month you can access all of our content, including Premium articles.
Subscribe