One of Tayside's youngest elected councillors has revealed his girlfriend was subjected to a vicious racist slur as they walked together through the centre of Dundee.
Ben Lawrie, 23, and his partner Mariam Mahmood, 22, were targeted by a young woman near the city's bus station, who walked straight up to them and screamed abuse directly into her face.
But his girlfriend said it was just the latest racist attack she has had to endure throughout her life, including a post-9/11 window-smashing attack on her Pakistani family's Glasgow home.
Mr Lawrie, a Liberal Democrat councillor for Monifieth and Sidlaw, is the youngest member of Angus Council.
He shocked fellow members of the children and learning committee when he revealed details of the incident during discussion of the authority's anti-racism education programme.
Ms Mahmood said: "I've grown up with this throughout my life when people would use racial slurs almost as ammo against you but Ben had never witnessed it so the bus station incident was shocking for him.
"This girl was standing with a group of friends and just walked over and screamed it right in my face.
"Her friends didn't look that impressed – but none of them called her out. It's very disheartening."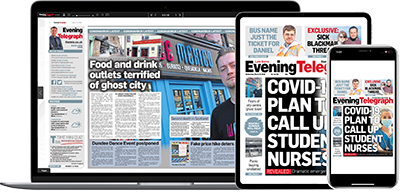 Help support quality local journalism … become a digital subscriber to the Evening Telegraph
For as little as £5.99 a month you can access all of our content, including Premium articles.
Subscribe