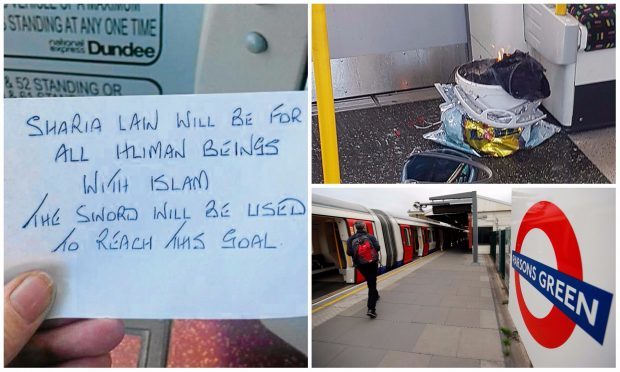 A Dundee woman has told of her shock after finding a note on a bus pledging that "the sword will be used" to institute Sharia law — a day before a terror attack in London.
Marina Thomson was travelling on a 29 bus from Charleston when she found a handwritten message on a piece of paper.
She was shocked to find that the note read: "Sharia law will be for all human beings with Islam. The sword will be used to reach this goal."
Less than 24 hours after Marina found the note, a bomb was set off on a train at Parsons Green tube station in London, injuring 30 people.
Officers from the Metropolitan Police are treating the bombing as a terrorist attack and have made five arrests in connection with the incident.
Although the note carried no direct threat to any person, Marina reported it to the bus driver.
She said she believed the message to be "some sort of call to Jihad".
She said: "I went to sit on the seat and there was a bit of paper and I happened to look at it. I read it and then I gave it to my partner to read and we both said that it was really worrying.
"It was so neat — it was like they had used a ruler to write it out.
"It just didn't seem right — I didn't know who I should get in touch with.
"I thought the best person would be the driver, and he would know what to do, so I gave it to him.
"These days, we can't ignore things like this. Even if it's nothing, it should be looked into.
"We just didn't expect to find something saying that on a bus in Dundee.
"Less than 24 hours later, there was the terror attack in London."
A spokeswoman for Xplore Dundee commended Marina for being alert. She said: "We work closely with Police Scotland on matters of public safety and national security.
"As with all major organisations in the UK, we are on the alert for any suspicious activity on or around our buses and we appreciate the vigilance of this customer."
Sharia law is the religious law forming part of the Islamic tradition.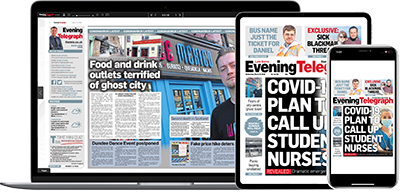 Help support quality local journalism … become a digital subscriber to the Evening Telegraph
Subscribe