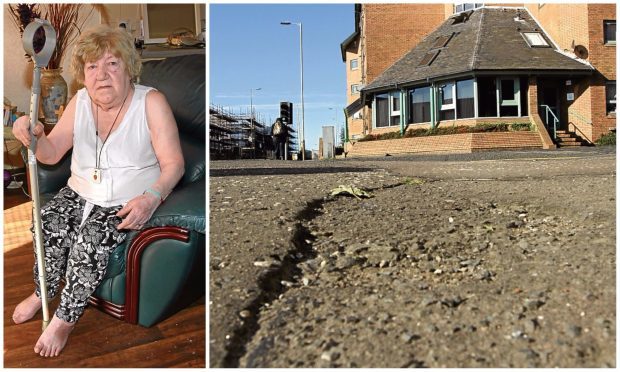 A Dundee pensioner has blasted the city council — claiming that a "death trap" road surface led to her falling twice and breaking her mobility scooter.
Elizabeth Grewar, 72, a resident at Servite Houses in Alexander Street, believes the road surface in nearby North William Street is a danger to the public.
Elizabeth told the Tele she has fallen twice crossing the road and was unable to get back up on both occasions.
She also says the road surface was to blame for her mobility scooter suffering a puncture.
The OAP has called for the council to make urgent repairs on the road and pavement, saying it's only a "matter of time" before something more serious happens.
She said: "All I want to do is go to the shop and get my messages but it's dangerous.
"It's a nightmare. I have fallen twice and had to be picked up off the road by a stranger.
"To have to rely on someone stopping and helping you up off the road is really embarrassing.
"I hurt my hip in one of the falls and I have been struggling ever since. I took my mobility scooter out and my tyre burst because of the road. It is too expensive to get it fixed.
"Now I have to use my walking sticks but it is only a matter of time before another accident happens. There are some residents here who don't even go out any more because of it.
"They just have to hope that someone else is going to the shops and they can pick up their stuff for them.
"I just think it's terrible that we are not able to do something as simple as going to a shop for messages.
"It's a death trap. Something needs to be done about it or a serious accident could happen."
Elizabeth believes the road should be treated as a priority due to its proximity to the sheltered housing complex.
She said: "It's just a wee road but trying to cross it is terrifying.
"It's the only way to the shops. You don't have any other choice.
"I think people reckon, because we are in sheltered housing, we should be staying at home.
"It's like people think we're already over the hill — but that isn't the case."
A city council spokeswoman said it will investigate the matter in due course.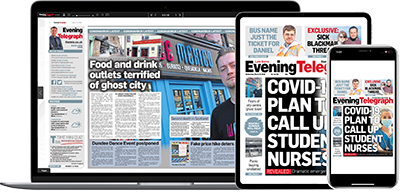 Help support quality local journalism … become a digital subscriber to the Evening Telegraph
For as little as £5.99 a month you can access all of our content, including Premium articles.
Subscribe