A woman bludgeoned by a convicted killer has accused local authorities of "gambling with her life" and failing to take responsibility for her attacker during his day release.
Linda McDonald, who was battered with a dumbbell by Robbie McIntosh in Templeton Woods, said she believes authorities in Dundee had no idea the convicted killer was on home leave – despite being just 200 yards from the city boundary.
The case was discussed at a Dundee City Council meeting on Monday night, when Labour leader Kevin Keenan said he believed McIntosh had been allowed to slip through the net between the authorities in Angus and Dundee.
Mr Keenan told the community safety and public protection committee: "It seems to me that McIntosh's release was dealt with by another local authority which he was released to but he was only 200 yards from the city boundary.
"Potentially something has been missed where someone is being monitored in one local authority bordering another.
"We've got a duty to protect the citizens of Dundee and if there are any lessons to be learned, we need to learn them."
Linda said yesterday that she believed a breakdown in communication between Angus and Dundee local authorities helped give McIntosh the opportunity to plan his attack.
"The authorities gambled with my life and I'm still waiting for an apology," she said.
"I have been privy to some meetings during the preparation of the significant case review (SCR) which have led me to believe that the Dundee authorities had no idea that McIntosh was being released.
"I do not believe the authorities in Dundee were told and I also believe there was never any full or appropriate monitoring or supervision of McIntosh.
"Basically I believe he was allowed the freedom to plan his attack.
"He grew confident during previous home leaves that no one was going to be checking on him or monitoring him. That gave him all the time he needed to plan.
"I accept that no one could have predicted what he did to me that day but they should have had a pretty good idea that something was going to happen.
"They took a gamble and allowed him unchecked freedom."
McIntosh 32, was jailed for life with a minimum of 15 years in 2002 for the brutal murder of dog walker Anne Nicoll on the Law.
But in 2017 he was allowed out on home leave as he was being prepared for release from prison – when he attempted to murder Linda as she walked her dog Betsy in Templeton Woods.
Following his attack he fled to his mother's house in Bridgefoot on the outskirts of Dundee – but in the Angus Council area.
He was later jailed for five years for the attack.
Linda said: "It didn't have to be me – I was just in the wrong place at the wrong time but it was going to be someone."
She added: "I want an apology for my husband Matt and my family.
"It's a very small word but I want to hear the word sorry for what my family went through."
Linda said that she was still hoping the significant case review into the attack would be published soon.
"I have been told it should be ready for publication very soon and I am anxiously waiting for that day," she added
At last night's council meeting, social work service manager Glyn Lloyd said: "It is too early to say when the SCR will be completed.
"I can give an assurance that where recommendations have been agreed we will take immediate measures to reduce risk in future."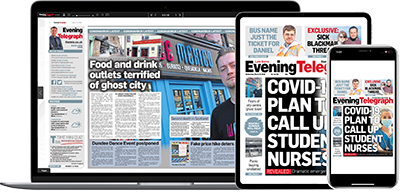 Help support quality local journalism … become a digital subscriber to the Evening Telegraph
For as little as £5.99 a month you can access all of our content, including Premium articles.
Subscribe