Bus users in Dundee have given a mixed response to a raft of planned service changes announced by Xplore.
The company has given formal notification of changes, which will come into effect on October 21 if approved by Dundee City Council.
In some cases, streets will no longer have active bus stops and lose their connection to Ninewells Hospital.
The routes primarily affected are in the West End, Charleston, Loons Road and Milnbank Road.
The 9/10 Outer Circle service will re-route via Spey Drive and Mallaig Avenue, no longer going via the Technology Park. It will also no longer run through central Charleston, instead going along South Road and Buttars Loan.
Loons Road will no longer be on the route, with buses travelling along Harefield Road. It means Loons Road, Alpin Road and the Glenesk area will no longer have a direct connection to Ninewells.
The 17 service will continue to service the Technology Park, with Xplore now considering sending every number 17 there.
The number 4 service between the city centre and Dryburgh will be re-routed via City Road, instead of Milnbank Road and Polepark Road, "in order to streamline and simplify the service", Xplore has said. The number 5 bus, which links Ninewells and Barnhill, will be re-routed via Dickson Avenue, instead of the end of Perth Road and Tom MacDonald Avenue. This service is set to run every 10 minutes instead of every seven minutes following a successful trial.
Linda Groat, 51, who lives off Perth Road, has multiple sclerosis and finds walking distances difficult. Last month she told the Tele previous changes to the 5 route had left her feeling "trapped".
Responding to the latest alterations Linda said: "These changes are even worse. We have to walk about a third of a mile to get to the bus stop.
"Why are we the only area that doesn't have a bus service? They are not helping this part of the town. It's quite disappointing."
Maggie Jamieson, 45, a social care officer who works at the hospital, said: "There are lots of elderly people up Loons Road so this would be quite bad for them."
Another service going to Ninewells, the 29 from Douglas, will be re-routed via South Road with Dunholm Road losing its direct connection to Ninewells as a result.
Joan Heggie, 59, a hospitality worker from Craigowan Road, said: "The 29 not stopping at Dunholm Terrace will affect a lot of people doing the school or shopping run."
But Anna Ratter, 74, a retired B&B owner from Perth Road, said: "There is always a bus when I need one. I think the changes are a good idea if they are going to make the buses smoother and more punctual."
Terrence Kelly, 79, from Broughty Ferry, was also positive: He said: "I am happy with the way the service is now. I think the changes to the bus times are not too bad."
Lynne Short, the council's transport spokeswoman, said the local authority was "getting things right for as many people as possible" – and stressed that no decisions had yet been made.
She said: "At this stage we are still in the middle of consultation. We are in discussions with Xplore, and ultimately ourselves and the bus operators want what's best for the people of Dundee."
Xplore's managing director Christine McGlasson said: "Changes we're planning for October are intended mainly to simplify some routes and improve reliability."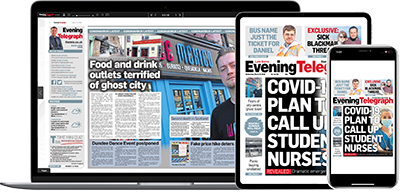 Help support quality local journalism … become a digital subscriber to the Evening Telegraph
Subscribe