A brave youngster who was declared cancer-free earlier this month is off on the holiday of a lifetime following the devastating news her illness has returned.
Lily Douglas, 10, from Perth, has battled stage four Ewing's sarcoma for more than a year.
Earlier this month, scans showed that Lily was clear of cancer and her treatment was stopped.
But her mum, Jane, originally from Dundee, said that on Friday the family received the devastating news that the results of Lily's latest scans showed the cancer had returned.
Jane said: "We're absolutely devastated – it's in her lungs and doctors say it doesn't look good."
At the beginning of October, just before resuming her cancer treatment, Lily will head to Walt Disney World, Florida, where among other things, she will swim with dolphins on her birthday.
Jane said: "We were meant to be going on holiday to Florida but we didn't know if we could still go.
"When I asked the doctor what she thought we should do, she suggested we really should consider just going.
"I know she was suggesting that this might be the last chance we have to take Lily on holiday to Florida. We are all going to go and make some memories – we're going to have a brilliant time and make it very special.
"She'll go for more chemo- therapy when we get back but we're going to enjoy our holiday first.
"We leave on my birthday, October 8, and Lily will celebrate her 11th birthday while we are out there."
Jane said that she has had more than a thousand messages of support since the family were given the news.
An online fundraiser was set up on Friday to allow Lily to have the best possible time and already almost 500 people have donated, with a rising total of £7,155.
Jane said: "Many people have also been fundraising so Lily can really enjoy her holiday but we are now going to put the money into a pot so we can look at funding alternative treatments. She will be getting chemotherapy but I'm also keen to look at other treatment."
Ewing's sarcoma is a very rare type of cancerous tumour that grows in your bones or the soft tissue around your bones, such as cartilage or the nerves.
Lily was given just a 5% chance of survival when she was diagnosed just over a year ago. She has already undergone 118 intensive chemotherapy treatments and had major surgery to remove her shoulder blade and surrounding muscle.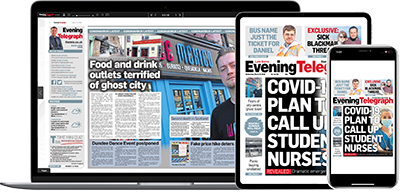 Help support quality local journalism … become a digital subscriber to the Evening Telegraph
For as little as £5.99 a month you can access all of our content, including Premium articles.
Subscribe