A new website which offers support to carers in Dundee has been launched, one of several events marking Carers Week in the city.
The Carers of Dundee website, which is now live, provides one-to-one, group and telephone support to those who are looking after people to ensure they take care of their own health as well as that of others.
Workers at the service can also provide information on financial support and other social services, as well as providing advice for specific conditions such as dementia and cancer.
This week marks Carers Week across the UK, with hundreds of events taking place to highlight the often unrecognised work performed by the country's 6.5 million unpaid carers.
The website launch was took place  on Thursday at the Dundee Carers Centre on the Seagate, which provides those who care for others with an essential source of support and training.
Stacey Clark, communications and quality manager at the centre, said: "Carers Week provides an opportunity for us to show carers how much they are valued and to recognise the contribution they make to the city day-in, day-out."
Unpaid carers can often feel under physical and mental strain while looking after loved ones, according to research conducted by eight charities to mark Carers Week.
The study found that 72% of all carers in the country had experienced poor mental health as a result of caring, while 61% said their physical health had worsened.
Helena Herklots, chief executive of the charity Carers UK, said: "Without the unpaid care provided every year by family and friends, our health and care services would collapse.
"Yet the physical and mental strain of caring, without enough support, is jeopardising carers' ability to care in the future."
Carers of Dundee has been funded through Dundee Health and Social Care Partnership (HSCP).
The Carers (Scotland) Act 2016, which came into force in April, put a legal duty on councils to provide support to unpaid carers.
Councillor Ken Lynn, chairman of Dundee HSCP, said: "We need Dundee citizens to think about themselves, their neighbours, family and friends and to help them recognise themselves as carers."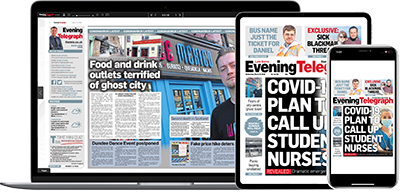 Help support quality local journalism … become a digital subscriber to the Evening Telegraph
Subscribe