The chairman of Tayside's health board has promised that it won't stop trying to save cash despite having £62 million of debt written off next year.
John Brown has welcomed the decision by the Scottish Government to forego the repayment of "brokerage" loans given to NHS Tayside by Scottish ministers since 2012.
Scottish Health Secretary Jeane Freeman confirmed earlier this month that she would give health boards a clean slate from next year.
But she has warned them not to treat it as a "blank cheque".
Mr Brown has vowed that Tayside will not be complacent about its finances in future, despite the government assistance.
He told board members at a meeting: "The write-off of the debt is to be welcomed but it doesn't change anything because we had a repayment hold for three years.
"We still have to change, but the fact the gap has come down is excellent news as well."
NHS Tayside is still working towards finding £48m of savings this year, with cuts to staffing and prescriptions expected to play a significant part.
Finance bosses still expect to overspend by £18.7m this year – an issue compounded by the repayment of £3.6m to its own charity fund.
Stuart Lyall, head of finance, said Tayside was improving its rate of long-term "recurring" savings.
"Our recurring savings are 44% – at the close of last year it was 36%," he told the board.
Mr Brown said that he was "particularly pleased" to see a high level of savings identified.
However, he added: "We need to keep the pressure on and find the efficiencies to ensure we get the best value for money."
Board member Hugh Robertson warned that NHS Tayside had to take care not to get into even greater debt.
He said: "The £18.7m should be a line in the sand so we can show the Scottish Government we have done what we said we would do. We can't take our foot off the gas."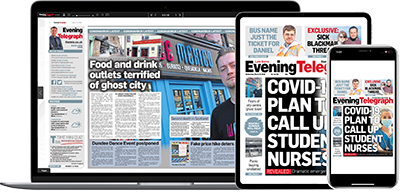 Help support quality local journalism … become a digital subscriber to the Evening Telegraph
For as little as £5.99 a month you can access all of our content, including Premium articles.
Subscribe