A trial period for a tourist-friendly bus launched after the opening of the V&A has been extended – despite claims of low passenger numbers.
Xplore Dundee's 360 circle route takes in attractions including the new museum of design, The McManus, Verdant Works and the railway station.
It is designed to offer visitors and locals an easy way of getting round places of interest or travelling between the railway and bus stations – which didn't have a direct link before.
The service was launched in mid-September, coinciding with the opening of the V&A, with the help of the loan of a £220,000 bus from Northern Irish firm Wrightbus.
It was initially designed to run for a three-month trial period but fears for its future were raised in November after a number of locals claimed there were rarely people using the service.
A spokeswoman for Xplore Dundee confirmed the service was continuing to run into 2019 – but the long-term future of the route remains unclear.
She said: "The bus is still running. The initial trial period was extended and discussions on the future of the service are ongoing, with decisions to be made over the next couple of months."
The spokeswoman added: "We're working alongside partners to publicise service 360 and would urge local attractions, hotels and restaurants to keep promoting the bus to their customers and visitors.
"We also want to encourage the people of Dundee to use it – it's a great way to get around the city, linking visitors and locals with the railway station and bus station, as well as great attractions including The McManus, Verdant Works and, of course, V&A Dundee.
"Service 360 is a leap of faith – we still believe it is important and necessary, connecting Dundee's cultural hotspots, and we hope customers and visitors will demonstrate their support for this bus during the next few weeks."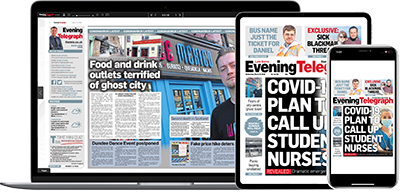 Help support quality local journalism … become a digital subscriber to the Evening Telegraph
Subscribe