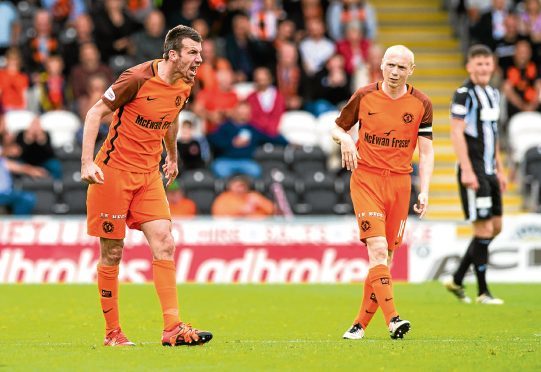 "Make no mistake we owe the fans, we owe ourselves, our families who travelled to watch us, the staff and people who pay our wages better. There's no excuses."
That's the blunt and honest assessment of Dundee United centre-back Paul Quinn after their 3-0 defeat to St Mirren at the weekend.
The Buddies more than deserved the three points after sweeping the Tangerines aside with a vibrant attacking display.
For title favourites United, though, it was not nearly good enough for new recruit Quinn.
He said: "We were hurting in the dressing-room afterwards.
"It wasn't a good result, not a good performance, not good enough.
"The fans travelled in numbers and to watch that is disappointing for them.
"The expectations on us are obviously huge and the game showed we have a bit of work to do this week.
"There's no hiding place, we were second best all afternoon and it's only us that can sort that out."
Lewis Morgan was St Mirren's star man, scoring twice and setting up the third as he ran the Tangerines ragged.
"There are good players in every team," Quinn added.
"There is no easy game, no easy player but we didn't deal with Morgan on Saturday.
"He scored two and set up the other and was streaks ahead of us.
"However, we've certainly got players of his calibre but he lit it up on Saturday and we didn't.
"We all need to take a look in the mirror, be honest, because it's not the time to point the finger of blame and say we weren't at it. St Mirren were, because we were well beaten.
"In all the games I've played in, it's not often I've said that, it's a sore one.
"Make no mistake we owe the fans, we owe ourselves, our families who travelled to watch us, the staff and people who pay our wages better.
"There's no excuses, we need to perform at a better level than that.
"You can lose football matches but I'm not going to be happy about losing 3-0, certainly not in the manner.
"We had the odd chance in the game, it was even-Stevens up until the first goal.
"The momentum early on was with St Mirren, though. They were sharper than us, they stamped their authority on the game as the home team.
"In football, you need to match that to have any chance over 90 minutes because you can't go up and down the gears when you want to — we're certainly not good enough to do that.
"Maybe the likes of Man City can do that, but for us that was a reality check.
"We're not able to go up and down the gears whenever we feel like it, we need to be ready from half-past-one to quarter-to-five, and on Saturday we weren't.
"To be honest, we take 3-0 with the way the game went and that's embarrassing to say."
The performance is one Quinn wants the Tangerines to put behind them, starting this week at home to Alloa in the Irn-Bru Cup.
"For me, I'd like to get out tomorrow and show people that isn't acceptable.
"This week will take care of itself but if we don't address how we performed on Saturday, how lacklustre the performance was, then we'll end up having this discussion again.
"The manager, staff and experienced players certainly aren't going to let that happen.
"It's a warning shot. Hopefully, we can heed the warning."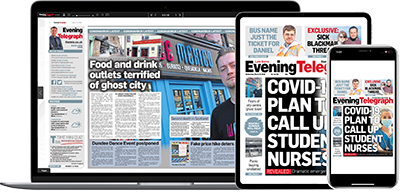 Help support quality local journalism … become a digital subscriber to the Evening Telegraph
Subscribe