A team of specialists is aiming to bring drug deaths in Dundee down to zero.
The Dundee Drug Misuse Commission, a collective of experts from various fields put together in response to the increasing number of drug-related deaths in the city, also hopes to set an example to the rest of the country.
The group held its inaugural meeting on Wednesday just weeks after it was revealed that 72 people lost their lives to suspected drug deaths in Dundee in the last 12 months — the highest reported figure in living memory.
Thought to be the first forum of its kind nationally, it will see "commissioners" from local and national agencies come together to tackle the issue.
People utilising drug services, those with a history of drug problems and family members who have been affected will be asked to give evidence alongside contributions from agencies and partners.
So far, 40 people have responded to the call for evidence.
Speaking after what was described as a "really positive" meeting, Councillor Ken Lynn, chairman of Dundee's Health and Social Care Partnership, said the group was aiming to better the lives of those "at the bottom of pile".
He said: "I am hoping to see some progress in reducing drug deaths and making sure there are better outcomes for people.
''The idea would be to make a difference for everyone, especially those who are at the bottom of the pile – drug users who are living in deprivation and dicing with death.
"I would like to think we can bring drug deaths in the city down to zero. That is the target, not five or 10."
The group has been tasked with presenting findings to the Dundee Partnership within a year.
However, Mr Lynn pledged that any findings which could pay immediate dividends would be rolled out as soon as possible.
Chairman Robert Peat said the most important aim of the commission is to "identify ways that the drug-related death rate in the city can be reduced and to save lives".
He added: "It is a horrible situation and we don't want to see that continuing.
"There are drug problems everywhere but in Dundee we are seeing a particular age group – not just young drug users.
''We are also seeing people in their middle years fall victim to drug deaths and that is one of the problems we are looking to solve.
"The experience of people who have used or are presently using services in the city and their families, as well as those who provide services, will be vital to help the commissioners in their deliberations.
"We are keen to hear from anyone affected by drug abuse who can assist us in our work."
Mr Peat added that the group was also aware of the ongoing regeneration work in Dundee and said it aimed to make it possible for everyone in the city to benefit from it.
Alcohol and drug specialist,Andy Perkins, who has 22 years' worth of experience in evaluating and reviewing policies, services and systems across the UK, said he believed the group's work could be an example to other areas across the UK.
He added: "We have a unique opportunity here which could have an impact across the country.
"Dundee has been in the spotlight because of the number of drug deaths. However, these issues are not confined to the city.
"I have been working across England and we are talking about the same issues affecting people.
"This is the first commission and we hope we can come up with something for Dundee that can be replicated across the country."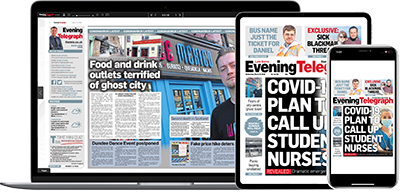 Help support quality local journalism … become a digital subscriber to the Evening Telegraph
Subscribe