A drugs charity worker in Dundee has warned users about a "deadly" batch of unusually-pure heroin circulating in the city.
Sharon Brand, who runs Recovery Dundee, said she had been made aware of the drug through a service user – who was "terrified" of taking it because of the potency.
She spoke out after three sudden deaths across Tayside over the weekend were linked to overdoses. They include 36-year-old Alexis Watson, who was found dead at an address in Forebank Road on Saturday morning. An 18-year-old man also died in Brechin and a 44-year-old man died in Arbroath.
Ms Brand said: "A service user said at the moment there is a particularly strong batch of heroin doing the rounds. He is trying to get clean because of this batch and told me he was terrified of the strength.
"It's worrying, with the year we have had so far for drug overdoses."
Dave Barrie, service manager with drug recovery charity Addaction, said it was a "fair assumption" that drugs in Dundee would spread to Angus and Perth.
He said: "Going by some of the seizures of heroin that are made, there will be kilos of the drug coming into Tayside at one time.
"It's a fair assumption that the batches originate from the same bigger batch, then are sold on multiple times until it is sold at street level.
"There's every chance that these deaths could be linked to a single batch, if they are indeed drug overdoses. If there is particularly strong heroin doing the rounds it will be sold on very quickly as users know each other."
A spokeswoman for Police Scotland said: "Officers attended at Meikle Mill, Brechin at 11pm on Saturday following the death of an 18-year-old man.
"Police also attended at Brothock Mill Place, Arbroath at 2pm on Sunday, following the sudden death of a 44-year-old man. Both deaths are being treated as unexplained."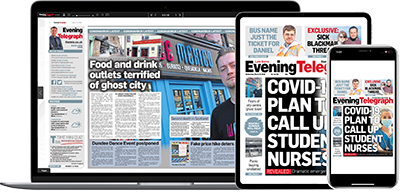 Help support quality local journalism … become a digital subscriber to the Evening Telegraph
For as little as £5.99 a month you can access all of our content, including Premium articles.
Subscribe