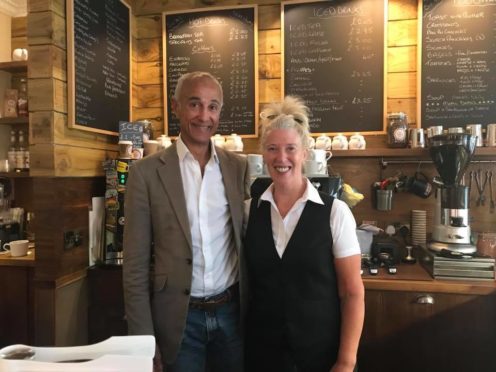 Club Tropicana doesn't open until later on a Friday so Wham! star Andrew Ridgeley had to make do for a Dundee coffee shop instead.
The 55-year-old stopped off at Coffee & Co on Reform Street for a bite today – but the drinks weren't quite for free.
The founder of the eighties pop legends had been in area after visiting The Open in Carnoustie yesterday.
Staff members were left debating whether the customer, who entered the cafe around 9.15am, was George Michael's band member or not.
Coffee & Co boss Heather Sharpe decided to find out for definite.
She told the Tele: "Everybody my age was a Wham! fan.
Look who popped in for a coffee & toast ….only my old mate Andrew Ridgeley from Wham!! How happy were we ??? what a gent ?

Posted by Coffee & Co on Friday, 20 July 2018
"I went over and said to him 'you look an awful lot like Andrew Ridgeley' and he responded 'funny you should say that'.
"He was saying that they were over yesterday for the golf and had got the train to Dundee today and were looking for a place to watch it.
"They sat for around two and a half hours after their toast watching it on their tablets."
Despite being a member of one of the most iconic British pop bands, Heather said no one noticed him.
She added: "No one really realised it was him – I think he quite enjoyed that, the peace and quiet.
"When he was about to leave I asked for a picture and he was the perfect gentleman.
"After he left a couple of customers were asking who that was I was getting a photo with and they were like 'aw no!'"
Heather said that the pair were looking for watering holes to watch the golf in later in the day and pointed them in the direction of the Perth Road.
She added: "It's made it a happy Friday for me and all the staff.
"I'm just delighted that he popped in and chose an independent coffee shop."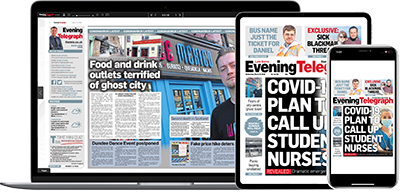 Help support quality local journalism … become a digital subscriber to the Evening Telegraph
For as little as £5.99 a month you can access all of our content, including Premium articles.
Subscribe