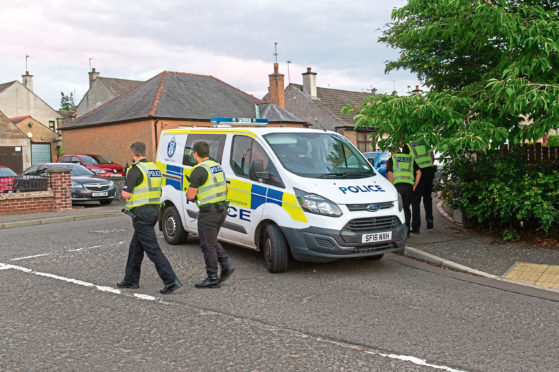 A vigilante group had to be given a police escort out of a local street following a "sting operation" against an alleged sex offender.
A man was arrested in connection with alleged communication offences, after being confronted by a group of self-styled "paedophile hunters".
Nine police vehicles attended at Old Halkerton Road in Forfar, Angus at around 7.45pm on Wednesday after the group appeared at the property and started remonstrating with the man and others in the house.
A Police Scotland spokesman confirmed today that a man had been arrested for communication offences.
The man was confronted by about 10 members of Wolf Pack Hunters UK – a vigilante group which claimed it had been in contact with the man using "decoy" Facebook profiles, with adults pretending to be children.
A live video on social media, published by the group, showed a heated exchange between members of the group and people at the property.
People in the house and the group could be heard angrily shouting and swearing at each other in the video, which has since been removed from the group's Facebook page.
The vigilantes were all wearing branded clothing with the group's logo on it.
Witnesses said they had arrived at the scene in SUVs with banners and placards.
Around 11pm, the "hunters" were escorted out of the street by police and taken to a local police station to be quizzed about what they knew in relation to the alleged offences.
Officers remained outside the house until around 6.30am today.
A video showing the group being escorted from the scene was still on the Wolf Pack Hunters UK Facebook page today, and had racked up more than 28,000 views. and 1,600 comments.
It had also been shared hundreds of times.
On the Wolf Pack Hunters UK Facebook page, the group describes itself as "a community response to the epidemic of grooming in the UK", adding: "We will stop when child abuse ends."
Details of the exact offences the man was arrested in connection with and any subsequent charges have not yet been confirmed by Police Scotland.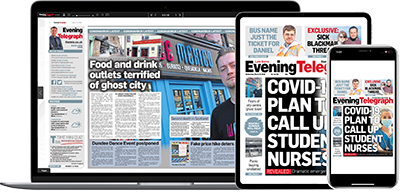 Help support quality local journalism … become a digital subscriber to the Evening Telegraph
Subscribe