A Dundee man's ashes were reunited with his family after his best friend travelled across the world with them.
Danny Mitchell made the journey from New Zealand after a promise to Robert Galloway that his remains would be interred in his native Dundee.
Both Danny and Robert were ex-pats, with Robert having left Dundee in 1939, aged just 14, to join the Merchant Navy.
Danny contacted the Tele for help tracking down Robert's brother and sister-in-law, Alex and Jean Galloway, who live in Ardler, on the eve of his journey two weeks ago.
Before his death in 2005, Robert had told Danny, 73, he wanted his ashes returned to his home city.
Twelve years on, Danny made it to Dundee and had an emotional reunion with Jean and Alex on Thursday.
The three had met 22 years ago when the couple holidayed to New Zealand.
Danny's grandson, Rheon Lemi, made the trip over from New Zealand with him, and were accompanied to Dundee from Glasgow by Danny's brother, Michael Mitchell.
Jean, 78, said: "It's really emotional seeing Danny after all these years. It's hard to put into words what he's done for us and what this means to us."
Alex, 85, said: "It's brought back some happy memories of Robert," adding that as his brother had mentioned being buried at sea, and given his service in the Merchant Navy, they may scatter his ashes in the Tay.
"The brothers had visited the Tay regularly together in their youth.
Danny said: "It means a lot to be able to do this. I've fulfilled a promise to my best friend."
Dundee family set for 'emotional' reunion with late man's ashes after Tele appeal
New Zealand man travels to Dundee to reunite best friend's ashes with relatives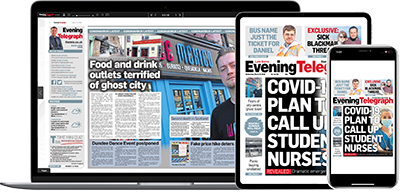 Help support quality local journalism … become a digital subscriber to the Evening Telegraph
For as little as £5.99 a month you can access all of our content, including Premium articles.
Subscribe