This is the moment two cars almost collided on a Dundee road.
Heart-stopping dashcam footage shows the incident on the city's Craigie Drive.
The shocking moment, of which footage was uploaded to YouTube, happened on the road between the Craigiebarn and Gardyne Road junctions.
A black Kia Sportage, parked facing oncoming traffic, can briefly be seen indicating after traffic passes.
The Kia suddenly pulls out in front of an approaching van and the camera car, forcing the driver to take evasive action to avoid a crash.
The motorist almost smashed into a lamppost and miraculously managed to avoid striking the kerb.
Daniel Stone, who recorded the incident on Monday, described the other motosist as "reckless".
He added: "The lady pedestrian looked upset. I felt sorry for her, as she must have thought she was going to get hit.
"Proper observation is all that is required. It would help if you didn't park and drive on the wrong side of the road too."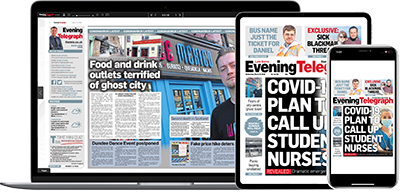 Help support quality local journalism … become a digital subscriber to the Evening Telegraph
Subscribe