Council chiefs have revealed how new flood defences in Broughty Ferry could look.
A video was presented to locals as part of a consultation into what protection measures may be introduced along the seafront between Broughty Castle and the beach at Douglas Terrace.
Among the ideas is the addition of a wall to run along the footpath, and steps between the road and the water close to the jetty where the lifeboat is stationed.
Local reaction was mixed when the Tele put the video to the public.
Forbes Browne, 72, backed the plans, saying that he has had fears for some time that climate change and rising water levels could result in the area flooding.
He said: "I have approached local councillors about the flooding issue in the past because my house is in close proximity to the water.
"With the Arctic ice melting at the rate it is, something really needs to be done to prevent flooding."
Geraldine Whyte, 60 said that the plans — if enacted — would make the area "much nicer".
She added: "It is going to a better Broughty Ferry. I think that it will be good for the locals, visitors to the area, and that it will look lovely.
"With the current work going on at Dundee Waterfront, they need to improve other places, too."
Jack McDonough, 63, said that his main concern was that the work would be value for money.
He added: "If it is worth the money that is spent on it and it brings people to the area, then it will be a good thing.
"I think the plan looks tremendous — the walk from Broughty Ferry to the Stannergate would be brilliant."
However, Sarah Beaton, 78, said that she would prefer the area to stay the way it is.
She said: "I think that the area is fine. I haven't ever seen a problem with flooding."
The proposals are being consulted on before a planning application is submitted to Dundee City Council.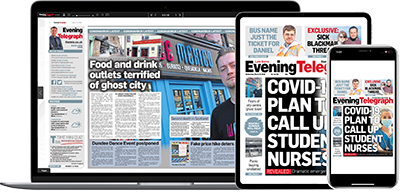 Help support quality local journalism … become a digital subscriber to the Evening Telegraph
Subscribe