An amateur videographer has captured stunning videos of Dundee after teaching himself on YouTube.
Chris McPhee, from St Mary's, started taking photos after buying a DSR digital camera two years ago.
Since then, he's taken to the skies and captured incredible shots of the city with a drone he got just nine months ago.
The 31-year-old, who works as a delivery driver, hopes his hobby will one day turn into a career. For now, though, he is satisfied just putting the videos together for others to enjoy.
He said: "I'd love to make a career out of it one day, but it's just really a hobby.
"With my job I've got limited time, so I just head to local spots and start filming."
"I've always been interested in photography. I got a digital camera two years ago and since then started filming videos. I'm self-taught, I watched tutorials on YouTube and read up on it and just started from there.
"I have a degree in audio engineering so I've been able to transfer some of those skills."
Chris recently captured the city covered in fog from the top of the Law. He hopes his videos will be appreciated by others who are too busy to stop and look at the beauty of the Dundee.
He said: "My recent favourite is from the Law with the fog rolling over. But I love them all, I just like watching them back.
"Dundee is so nice from a distance. People don't see that, they're too busy. Hopefully people will enjoy my videos."
Chris has since set up a Facebook page showing off his work and hopes to build an audience showing off the City of Discovery.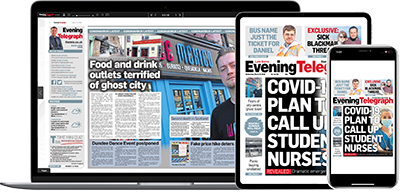 Help support quality local journalism … become a digital subscriber to the Evening Telegraph
For as little as £5.99 a month you can access all of our content, including Premium articles.
Subscribe