They are seen by many as "cash cows" — but speed camera chiefs have insisted their mobile units are helping drive down collisions and casualties on Tayside roads.
The Tele joined the North Safety Camera Unit's Scott Aitken as he set up his mobile van on the Kingsway opposite Tesco, where a 40mph restriction was introduced two years ago.
Despite the reduction in the speed limit from 50mph in 2015, he clocked six people in just an hour going too fast — and one was driving at 64mph.
Safety camera technician Scott said he believes he is playing a vital role in making Tayside's roads safer.
Scott's family suffered its own tragedy on the roads when his cousin was killed in an accident and that was partly what inspired him to take the job two years ago.
He said: "My cousin died in a car crash. He went out one night and the driver was going too fast and rolled the car.
"Then another night I was in a pub with a guy I knew who told me there would be a job coming up and I thought it was something I'd like to do."
Scott believes the work he and his colleagues do improves road safety.
He said: "When the speed limit first changed on the Kingsway, we would catch 20 to 25 drivers an hour, but now it's been two years and that number has come down to about 10.
"I've been doing this job for two years and I definitely think there are fewer people speeding now than when I started. People are just more aware of their speed."
The six people caught driving over the speed limit when the Tele joined Scott were clocked going 64, 56, 53, 54, 53 and 50mph.
Amazingly, some of the drivers didn't attempt to slow down at all and many appeared to be completely unaware of the van.
Scott, who once caught a driver going at 132mph on the 60mph A933 between Brechin and Arbroath, said: "It's not a numbers game for us. A common misconception is that we park the vans and it's all done automatically but that's not true.
"They're always manned and if someone looks like they might be going too fast, the radar gives me a reading. If it's too high I move the camera to the number plate and the driver's face as proof.
"People think we get a commission for each person we catch but that's not the case.
"We get a lot of abuse — people drive past making rude gestures but we're human beings just doing our job.
"We're not doing this out of spite, we're just trying to make people aware of their surroundings, because if you are aware of your surroundings, you won't get caught out.
"We make it easy. We make the vans as visible as possible, we tell you where the sites are on our website and there are road signs saying there are speed cameras."
Arron Duncan, North Safety Camera Unit manager, said: "The casualty reduction targets that are being set by the Scottish Government are being achieved and we're moving in the right direction.
"My argument to those who call us a cash cow is if you can't see a large van in high visibility colours, what chance would you have in seeing a pedestrian who's stepped out?
"That Kingsway site is a really bad stretch of road for pedestrians crossing and there have been several accidents in the past, so we just want people to drive carefully."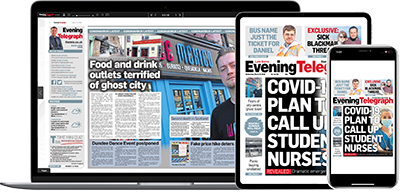 Help support quality local journalism … become a digital subscriber to the Evening Telegraph
Subscribe