Shocking video footage of fireworks bouncing off cars near a popular city pub has emerged online.
Traffic on Clepington Road was brought to a standstill as the sky lit up near the Clep Bar.
POLL: Do you think there should be a ban on the sale of fireworks?
An 18-second-clip was recorded after fireworks were set off in a garden just yards away from the main road.
Vehicles including a lorry are seen near the junction with Graham Street before one car drives through the display.
---
---
An image taken on Monday morning showed firework casing lying near the scene.
The Evening Telegraph understands none of the residents in the block were involved in the incident on Friday night, despite a private garden being used.
Dave Forbes, owner of Forbes Newsagent, said he was surprised the display had taken place.
He said: "It was a tremendous display.
"I was surprised by where it had gone off.
"I live close by myself and heard it going off at around 8.30pm."
Kathleen Hutton, 79, who has lived in the area for more than 20 years, said she had "never seen anything like it".
She added: "I was impressed by the fireworks – it was a huge display and very noisy.
"A lot of folk were complaining it was too near the road.
"It was over quite quickly. I just didn't expect to see it."
Another resident said: "I saw the video being shared – the sky was lit-up.
"People were telling me folk came out of the pub to see it.
"Thankfully no one appears to have been injured – it was dangerous."
Elizabeth Lumsden, community safety manager for the Royal Society for the Prevention of Accidents (RoSPA), said: "Fireworks are explosives that can seriously injure people and leave lifelong scarring.
"This was a dangerous and irresponsible use of fireworks which could easily have resulted in serious injury."
A spokeswoman for Police Scotland confirmed officers had received a report about the display.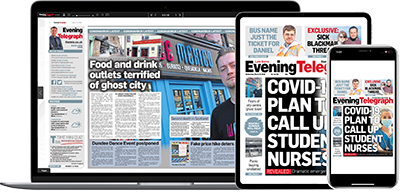 Help support quality local journalism … become a digital subscriber to the Evening Telegraph
Subscribe