As many as 50,000 people across Scotland could already be infected with coronavirus, according to one of the country's top health experts.
Chief medical officer Dr Catherine Calderwood has said an estimated 40,000 to 50,000 Scots could have contracted covid-19 already – and many of them are unaware they have it.
There are 76 who have tested positive for Covid-19 in Tayside now, up from 57 yesterday.
Cases in Fife also rose, up from 29 yesterday to 40 today.
First Minister Nicola Sturgeon said police powers to enforce new social distancing rules could come into effect as early as Thursday.
Tayside Contracts accused of gross negligence due to staff's coronavirus concerns
Businesses in breach of social distancing rules could be forced to close and people found leaving their homes for anything other than a "reasonable purpose" could be fined or even face prosecution.
From Monday, Scots were told only to leave their properties for vital shopping, a daily exercise, to provide medical care, or to travel to and from essential work.
Ms Sturgeon also revealed that some 1.5 million facemasks – thought to have expired in 2019 – have been checked by top health experts and cleared for use. They will soon be distributed to health boards.
Carseview patients discharged early to make way for coronavirus cases
Speaking at a press conference in Edinburgh on Thursday, the SNP leader said: "The Coronavirus Bill was passed by UK parliament yesterday gained royal assent yesterday.
"The Scottish Government now has power the power to make regulations to enforce the social distancing measures that were announced on Monday.
"We are now preparing regulations to give police in Scotland enforcement powers.
"We expect these to be in force as soon as possible perhaps as early as today.
Dundee BT staff claim they are still working as normal during coronavirus pandemic
"The regulations give us the power to enforce rules which most people are now following anyway and I want to thank people across the country for their compliance.
"These enforcement powers I hope don't have to be used but they are there to make sure the right things can be done to delay the spread of this virus."
She added they will give police "powers to require the closure of listed businesses and premises" and will "help to ensure that social distancing is enforced by businesses and premises which are able to continue operating".
She added police will also be able to clamp down on anyone found outside for anything other "a reasonable purpose"
POLL: Do you agree with government 'lockdown' imposed due to coronavirus pandemic?
She said "help to enforce the rule that there should be no public gatherings of more than two except where these are two people from the same household".
"Those found not to be acting in line with the regulations can be directed to return home or made to return home.
"They can also be subject to prohibition notices and if people don't follow prohibition notices or instructions to return home they could be liable to an on the spot fine or if necessary prosecution."
She said she expects the "vast majority of people to do the right thing without requirement for enforcement".
Ms Sturgeon added: "Police will continue to take a soft approach to enforcement but they will have the power to act if that is deemed necessary."
She said the rules were "unusual and out of character" but will come with "very important safeguards".
The regulations will be reviewed every 21 days with the legislation lasting for a maximum of just six months.
Ms Sturgeon added: "We will act to remove these restrictions as soon as it is safe to do so."
From the Editor: The Tele is on your side — that's why we're offering our ePaper FREE for three months
Follow below for the key coronavirus updates: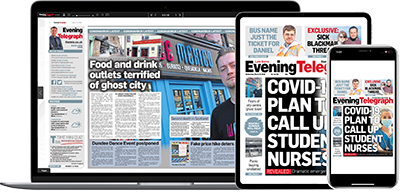 Help support quality local journalism … become a digital subscriber to the Evening Telegraph
For as little as £5.99 a month you can access all of our content, including Premium articles.
Subscribe