Residents have hit out at flytippers discarding tyres, oil barrels and gas bottles at a disused Dundee lock-up.
The lock-ups at 213 Clepington Road have become a dumping ground for flammable rubbish.
The garages were in use until July this year when those leasing the spaces were given their marching orders by site overseers Robertson Property Management.
A planning application to replace the garages with housing was lodged shortly afterwards.
One local resident, who asked not to be named, said she feared the combination of tyres, gas and oil could be deadly if it were to catch fire.
She said: "What if kids got in? Someone could get hurt.
"I fear someone could start a fire. There are gas bottles in here, car tyres and things that could catch fire. Nobody is doing anything about it.
"We had the dog out with us when we were there and when we saw that mess we just thought it was a total disgrace.
"This could be a nice place if it was cleared up, but as it is, it is a health hazard."
The resident added: "I don't know how long things have been getting dumped there but it's dangerous."
Another local said he had submitted a report to police about three weeks ago after he suspected corrosive substances had been dumped.
He added: "The council came out and said they would send a rapid response team and it was cleared up after a few days.
"The police have someone's number plate as well, but it keeps happening."
An application to raze the garages and replace them with homes was lodged by Discovery Homes in July.
The application proposed to turn the site into 11 family homes that would bring a "significant environmental improvement" to the Clepington Road area.
The application was withdrawn this week, although the Tele understands Discovery Homes is set to resubmit the bid soon.
Responsibility for the land at the lock-ups lies with the owner rather than the council, as it is privately owned.
Robertson Property Management was asked to comment but have yet to respond.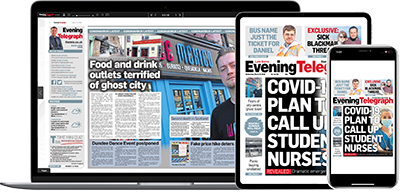 Help support quality local journalism … become a digital subscriber to the Evening Telegraph
Subscribe