A huge RAF plane landed in Dundee as part of a training exercise.
The Air Force's news Airbus A400M Atlas touched down in the city's airport to test its ability to land at short distances.
The aircraft, which is capable of carrying 25 tonnes, landed in the city for a short time, before reversing back up the runway and taking off again on Friday. It measures at 45m in length with a wingspan of 42.4m.
A spokesman for the RAF told the Tele Dundee Airport was the perfect place to carry out training.
He said: "The Atlas was carrying out routine training. The aircraft is the newest in the fleet and, in due course, it will replace the Hercules.
"In total we'll have 22 in the fleet."
"The aircraft is designed to land on short desert strips so Dundee had plenty of room."
According to the RAF, the Atlas is capable of flying at low-levels as well as at high altitudes up to 40,000ft.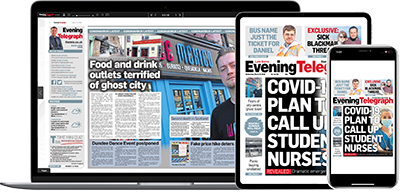 Help support quality local journalism … become a digital subscriber to the Evening Telegraph
For as little as £5.99 a month you can access all of our content, including Premium articles.
Subscribe