Fighters have weighed in for the first United Combat Championship (UCC), which takes place in Dundee tomorrow.
Over a thousand people are expected to attend Dundee Ice Arena for the first ever UCC event.
Local veteran K1 kickboxing champion Marc Navarro teamed up with Darren Clarke from the Fife branch of the Gracie Barra Brazilian Jiu-Jitsu Association to bring UCC to the city.
All the pro fighters made their weight for the bouts at the public weigh-in today at the Ridgevale Restaurant at the Hampton by Hilton at Argyllgait.
Main eventers, Dundee's Navarro and Sweden's Mikael Brilling both weighed in under the 82kg limit for their K1 fight.
Calum Owens, who runs Carnoustie's House of Pain MMA gym, and his opponent, Rob Morris, from Team Unity, both weighed in successfully for their 93kg MMA event.
Dundee's Kevin Lobban, from Team Unity, and DNFT Higher Level's Jason Woods, both weighed in under a catchweight of 63.5kg, to make their MMA bout official for tomorrow.
Darren Clarke said: "The show has been going really well, I am very happy with the support and all the guys making weight professionally. Tickets are going well, VIP tickets are looking to be sold out.
"There are available tickets on the door at the Ice Rink tomorrow."
Marc Navarro, who previously branded the event as "the biggest and best fight night in Dundee's history" today said: "I have been training hard, you see it on Facebook every day.
"I have left no stones unturned. The last fight was a war, I am feeling the fittest I have ever felt and made the weight perfectly.
"I am feeling good and ready to go."
Mickael Brilling said: "I trained hard for this moment and we both know what is happening tomorrow."
There is huge interest in the event but those who still want to attend can still purchase tickets at Dundee Ice Arena until noon tomorrow.
Others on the bill include:
Neil Petrie (Navarro's Fighting and Fitness Gym) vs Ross Convery (Kirkintilloch) – Boxing (90kg)
Corey McCulloch (House of Pain) vs Brian Boreland (Shooters Dundee) – MMA (75kg)
Valentine Duke (Team Unity) vs Dane Dickson (Shooters Dundee) – MMA (66kg)
Davie Drummond (Navarro's Fighting and Fitness Gym) vs Dan Lennon (Speedy Gym) – Boxing (85kg)
Jonathon Moreland (Team Unity) vs Armando Parente (Forza MMA) – MMA (70kg)
Billy Davidson (Navarro's Fighting and Fitness Gym) vs Kevin Traynor (Urban Gorilla) – Boxing (67kg)
Heman Mohammed (New Life) vs Kieran Laidlaw (Shooters Dundee) – MMA (60kg)
Daniel Glenday (House of Pain) vs Damon Donald (ACC) – MMA (66kg)
Andrew Finlayson (Kirkintilloch) vs Si McColl (Glasgow Fitness) – Boxing (70kg)
Miller Ross (Navarro's Fighting and Fitness Gym) vs Adam Kerr (Urban Gorilla) – Boxing (76kg)
Mark Moreland (House of Pain) vs Stuart Carrol (Shooters Dundee) – MMA (70kg)
Chrisy Whiteman (Highlanders) vs Kyle Murray (TNT) – K1 Kickboxing (63kg)
Anton Schweikert (Navarro's Fighting and Fitness Gym) vs Connor Bailey (Glasgow Fitness) – Boxing (64kg)
Ryan Harrower (Team Unity) vs Brent Battley (House of Pain) – MMA (62kg)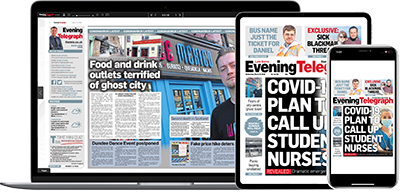 Help support quality local journalism … become a digital subscriber to the Evening Telegraph
Subscribe