A Dundee shop customer has become a millionaire — after scooping a huge prize on a scratchard.
The local, whose identity has not been revealed, won at least £1 million after buying the scratchcard from a Charleston newsagent.
Nasim Mukhtar, 25, who owns the Keystore on Dunholm Road where the card was bought, was only informed of the win when Lottery bosses got in touch to say a millionaire had been "made in this store".
The shopkeeper said he believed it was one of the biggest wins ever on a scratchcard in Scotland.
The winner of the life-changing sum has requested no publicity but Nasim reckons it's one of his regular customers who took the prize.
He said: "We got the letter in this week to say someone had scooped a big cash prize from the National Lottery.
"I was shocked and surprised.
"We have definitely seen an increase in scratchcard sales.
"Whoever has won it didn't notify anyone in the shop at the time.
"Loads of customers have been coming in, asking if I know who it is, but they have started calling it the millionaire's shop.
"Customers have also been asking if I will be getting a cut of the winnings or a bonus — but firstly we are delighted a customer has got lucky in the shop."
Nasim said he wouldn't be increasing prices either with the potential of having a regular millionaire customer.
He added: "I've had a feeling maybe for the last few months that someone might win big.
"We've had customers winning £5,000 and £10,000 before but we are delighted."
Speaking at the shop, customer Martin Geekie, 55, from Lochee offered the winner congratulations. He added: "It's a pity it wasn't me.
"I've never really bought a scratchcard — I'm bad enough with the football — but well done to them."
Full time mum, Angela Fraser, 31, from Kirkton, said: "I'm skint at the moment so it would have been nice — but I'm delighted for the customer. My pal buys a lot of scratchcards from there, she'll be gutted it wasn't her."
The National Lottery confirmed the winning scratchcard had been bought at the shop within the last three to six months.
Nasim added: "We got a plaque from Camelot to which says a millonaire was made in the store and we hope another one of our customers can scoop another big prize."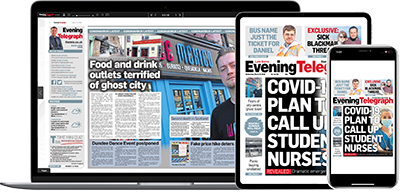 Help support quality local journalism … become a digital subscriber to the Evening Telegraph
Subscribe