The first wave of Oor Wullie statues preparing to take the country by storm have rolled off the production line.
Designers from across the country will be given the chance to put their flourishes on 150 bucket trail statues of the country's favourite son, with the first 48 arriving in Dundee today.
The Big Bucket Trail team is on the look-out for Scotland's best and brightest artists to submit their designs, which can be handed in right up until the end of the month.
In spring, the sponsors and artists will be paired up when the designs will then be put on to the statues.
Each monument will then be placed on a country-wide tour across five different cities in June, followed by farewell events and auctions in each city in September.
Sarah Johnston, Archie's regional fundraising manager, said: "The Oor Wullies arriving in Dundee takes us one step closer to having this fantastic public art trail out on the streets of Dundee, Aberdeen, Inverness, Glasgow and Edinburgh.
"Now that we are into 2019, it's so exciting to look ahead to summer when people across Dundee – and all of Scotland – can take part in Oor Wullie's Big Bucket Trail and help raise awareness and money for the country's children's hospital charities.
"But before these fabulous Oor Wullies hit the streets, they need artists and sponsors.
"We encourage businesses, organisations and artists to get in touch and be involved in this ground-breaking and worthwhile campaign."
Artists will be asked to reflect Scotland's cultural identity.
At the launch of the Big Bucket Trail at the Assembly Rooms in Edinburgh, First Minister Nicola Sturgeon said: "The Dundee trail was a massive success so to extend it right across the country is brilliant.
"It's going to raise lots of money for fantastic causes and everybody loves Oor Wullie. People seeing the statues when they arrive is going to be really exciting for all generations."
Supported by Oor Wullie custodians DC Thomson Media, the trail will raise money for Scotland's three hospital charities – Edinburgh Children's Hospital Charity, the Archie Foundation and Glasgow Children's Hospital.
Artists have until January 31 to submit their proposals, which can be done online at oorwullie.com. The Archie Foundation is also looking for local sponsors, with details available by contacting the organisation via email at sarah@archie.org.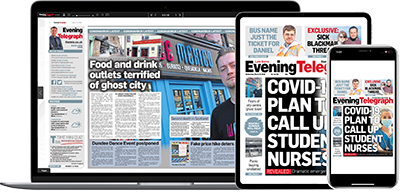 Help support quality local journalism … become a digital subscriber to the Evening Telegraph
Subscribe