The owner of a house in Dundee in which an elderly couple were murdered has hit out after footage of an urban explorer breaking into the property surfaced.
The footage, uploaded to YouTube, shows a man inside the secured property at Roseangle.
Urban exploration involves exploring man-made structures, usually abandoned ruins or unseen places.
The craze is usually documented with videos or photographs and sometimes involves trespassing on private property.
The owner of the Roseangle property Nael Hanna blasted the culprit.
He said: "Nobody should be in there — I will be contacting the police about this. The building is secure so they have broken into it.
"We have had a big issue of vandalism and we have spoken to the police about it. It is a real worry for me.
"The property is in a much worse condition than when I bought it because of things like this.
"It's also very dangerous for someone to be in there in those circumstances."
The Roseangle house became infamous in the 1980s after it was the scene of a horrific double murder in which 78-year-old Dr Alexander Wood and his wife Dorothy were brutally killed by Dundee-born Henry John Gallagher.
Mr Hanna, who bought the house for £450,000 almost a decade ago, said the house will be auctioned at the Marriott Hotel in Edinburgh later this month.
He said: "I haven't had much luck with this house. Vandals have cost me thousands."
As reported in the Tele, the house has recently been targeted by vandals with "NSA" spraypainted on the front.
Peter Menzies, chairman of West End Community Council, also blasted the "trespasser".
He said: "People should realise that the reason these buildings are secure is because they are not safe.
"In these times of austerity, the police and the ambulance service have better things to do than chase after someone who is foolish enough to put themselves at risk in this way.
"You have to feel for the owner who is doing his best to sell the property.
"It's a shame that people don't respect other people's property."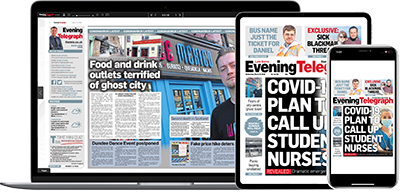 Help support quality local journalism … become a digital subscriber to the Evening Telegraph
Subscribe