Disturbing new footage has emerged of a passenger who was violently dragged from an overbooked United Airlines flight because he refused to give up his seat.
The man, who has not been identified, was randomly selected to be bumped from the flight even though all passengers were already seated and ready to go.
United Airlines said four members of staff needed the seats because they needed to be in the destination, Louisville, Kentucky, the next day.
Three of the passengers selected agreed to get off, but United say they were forced to call airport security when the final traveller refused to leave.
Horrific footage showed three police officers physically ripping the man out of his seat despite his screams of protest.
The victim hit his head on the seat opposite before being dragged by his arms down the aisle as fellow passengers reacted in utter shock.
More footage later emerged which showed the man covered in blood and saying to staff "Just kill me".
The CEO of United Airlines, Oscar Munoz, has been widely condemned for his reaction to the footage.
He called the events "upsetting" in a statement posted on Twitter – but was accused of using management jargon to hide the true extent of the incident.
"This is an upsetting event to all of us here at United. I apologize for having to re-accommodate customers," big boss Oscar Munoz said.
He added: "Our team is moving with a sense of urgency to work with the authorities and conduct our own detailed review of what happened.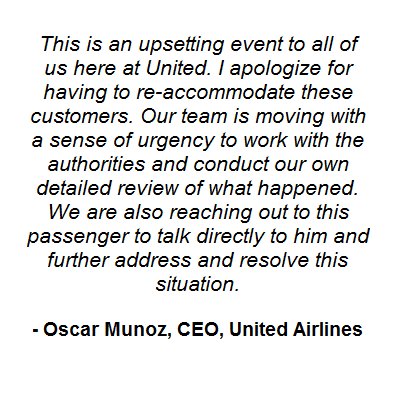 "We are also reaching out to this passenger to talk directly to him and further resolve this situation."
It also emerged last night that Munoz had written a separate email to staff calling the passenger "disruptive and belligerent."
The note leaked to CNBC, claimed staff had followed "established procedures" .
Munoz said the passenger refused to comply with orders to leave the plane, leaving staff "with no choice but to call Chicago Aviation Security Officers to assist in removing the customer from the flight."
At one point he "continued to resist – running back onto the aircraft in defiance of both our crew and security officials," Munoz added.
The incident occurred on a United Airlines flight before it left Chicago for Louisville, Kentucky.
The person who filmed the footage tweeted: "Not a good way to treat a doctor trying to get to work because they overbooked."
United Airlines previously told the a local broadcaster: "Flight 3411 from Chicago to Louisville was overbooked.
"After our team looked for volunteers, one customer refused to leave the aircraft voluntarily and law enforcement was asked to come to the gate.
"We apologise for the overbook situation."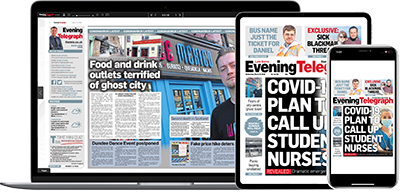 Help support quality local journalism … become a digital subscriber to the Evening Telegraph
Subscribe