A three-day counter-terrorism exercise testing the response of emergency services in England and Scotland to a cross-border incident has ended.
The "live-play scenario", which also involved locations in the Lothians and Angus, was not in response to any specific threat but the result of more than a year of planning.
The exercise featured a vehicle attack which began in an area of the Royal Bank of Scotland headquarters in Edinburgh on Tuesday morning.
It tested armed response teams, paramedics and firefighters as well as police control room and organisational staff as observers watched the action unfold.
Home Secretary Amber Rudd chaired a COBRA meeting as part of the exercise and the Scottish Government's Resilience Room updated Scottish ministers on the event.
A video shared by Police Scotland showed the scene with 'bodies' strewn across the scene with emergency service personnel reacting and tending to 'casualties'.
Reacting to the exercise, many people had mixed views on the video.
John Gilfillan posted: "Terrorism! Where in Scotland? Practising keeping the fear of god into people more like.
"Time and time again, has proven no matter how much training or practice. You're never really ready."
Pamela-Jane Finch said: "It's great that our services are rehearsing for worst-case scenario but should we really be publicising and showing our responses on social media?
"Surely the less information we give the nutters planning any attacks the better and the less likely they can plan around our defences?"
Many others, such as Rachel Willocks welcomed the training.
She said: "Can't do right for doing wrong. Big thanks to all the brave men and women who have to deal with terrorism attacks.
"Practise can help – it would be worse to have no training in terrorist attacks."
While Sandy Jenkins added: "There are folk that must sit with their phones just waiting for certain organisations to make a post so they can try and bring it down.
"Have none of you seen what's going on in the world?
"Being ready can be the difference between losing a couple of innocent people and losing hundreds."
Police Scotland Assistant Chief Constable Bernard Higgins said training needs to respond to the change in high-casualty attacks carried out by individuals or small groups with vehicles and weapons such as has been seen recently in the UK.
Other bodies involved in the three-day exercise include Northumbria Police, the Scottish Fire and Rescue Service, Scottish Ambulance Service, North East Ambulance Service, Northumberland and Tyne and Wear Fire and Rescue services, Transport Scotland, NHS Scotland, NHS England and the Ministry of Defence.
City of Edinburgh, Angus and Northumberland County councils also tested their responses to a terrorist incident.
Mr Higgins said: "We've seen a number of terrorist incidents within the UK which sadly led to a lot of fatalities. We've moved to a threat level of critical on two occasions.
"As these things have occurred so have our plans evolved to try and recreate the threat that we believe exists within the UK.
"In previous exercises the attacks were more coordinated, so you have had two or three different cells attacking different venues at different times.
"What we've seen in recent times – particularly in the UK – it's low sophistication, it's small numbers of people, often lone actors. They're using vehicles, they're using knives and bladed weapons, but the impact is high and the casualties are high.
"So it's trying to recreate what we believe will be a likely scenario, should it occur."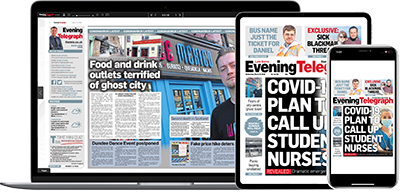 Help support quality local journalism … become a digital subscriber to the Evening Telegraph
Subscribe