More than a million people have seen a video on Facebook that features a social media star's antics in Dundee.
Arron Crascall, who has more than five million likes on the social media platform, was in Dundee at the weekend to present the Game Design Awards.
The comic, who lives in Dover, Kent, marked his trip to Scotland with a video – I Love Scotland (Where Shall I Go Next) – in which he enthusiastically boards a plane and shows his trademark flamboyance in a number of mini sketches.
After the footage shows him on the plane, where he says how he "can almost taste the haggis", Crascall shows two women "his favourite dance moves" to bagpipes outside M&S in the Murraygate.
He then sings The Proclaimers classic 'I would walk 500 miles' in front of baffled High School of Dundee pupils in Tesco Metro in Murraygate.
Next he asks a woman carrying two M&S bags in Murraygate if she has seen anyone wearing a pink jacket.
The woman, who herself is wearing a pink coat, looks mystified and looks around before answering: "No, sorry".
The video has been seen by 1.2 million people on Facebook. It has more than 4,000 shares and 37,000 likes.
Tiffany Smith Walton wrote: "Haha. I can't help laugh at Arron Crascall. No matter what mood anyone's in he can make them laugh."
Rebecca Anne Smith wrote: "
Omg! Arron Crascall I can't believe u were in my city haha .I totally missed u! Come back again soon for bants!"
Carol-Anne Martin: "You came to Dundee but not to our Morrisons store? Shame on you Arron Crascall!"

On Twitter, the video has more than 1,100 likes.
https://twitter.com/xmrsadamsx/status/906254429468405760
Love this. Dundee did you proud

— Lynsey (@xpeaches_1991x) September 8, 2017
THIS Festival: Social media phenomenon Arron Crascall to present Game Design Awards in Dundee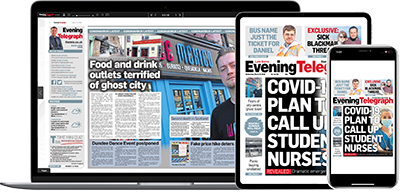 Help support quality local journalism … become a digital subscriber to the Evening Telegraph
Subscribe