A video showing the moment a man was drop-kicked from a stepladder at a Dundee house party has gone viral online.
The footage shows a man – who has been identified as 'Jocky' – on a stepladder fixing a smoke alarm when, out of nowhere, another man flying kicks him off the ladder.
The house party took place at a city centre flat in the early hours of Sunday morning.
Nyree Matthew, who filmed the video, said that the party-goers were "mortal" at the time of the incident.
She said: "We were at a party just round from the Nether Inn and everyone was totally mortal.
"Jocky was up the ladder fixing the smoke alarm and I started taking a video because it was funny watching him try to while he was so drunk.
"The other boy just came out of nowhere and flying kicked the ladder and Jocky fell.
"He was okay – it was hilarious."
Nyree uploaded the video to Twitter and the footage went viral – with 4,700 retweets and 7,900 likes.
She said that she only put the video up for a laugh and didn't expect it to be so widely distributed.
She said: "I only did it for a couple of likes, I am just a wee lass from Cardenden, I never thought my video would go so mental."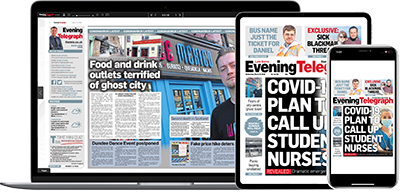 Help support quality local journalism … become a digital subscriber to the Evening Telegraph
Subscribe