Video: Majority of Dundonians want to see less grass-cutting, say senior councillors
Areas of parks and green spaces in Dundee will be left to grow wild to encourage more biodiversity, the council has confirmed.
Dundee City Council halted its grass cutting services at the start of the coronavirus pandemic, and now more than three months on, usually well-manicured public places such as Dawson Park and Magdalen Green are looking considerably more rugged.
But now as environmental services are reactivated, Anne Rendall, convener of neighbourhood services, said the council's "biodiversity plan" will create "naturalised spaces that will encourage wildlife", as well as reducing the amount of herbicide use and grass-cutting across the city.
Playparks, sports areas, cemeteries or communal spaces at housing will still be trimmed, but some areas at the edges of public parks will not.
Ms Rendall, who joined the Tele for an interview along with council leader John Alexander, said: "Once there was an easing on certain things that could be done on June 1 we did bring back in some of the grass-cutting services.
"Based on the resource that we had, we felt the best places we could prioritise were cemeteries, sheltered housing complexes, places where there are elderly residents who wanted their grass cutting brought back in – they couldn't do it themselves.
"People will start to see a difference from this week because we will be doing parks and open areas. But there is an issue about biodiversity, because we'd quite like to leave some of the areas for wildflowers."
Ms Rendall said the council's decision to create more biodiversity spaces across the city was not a cost-cutting measure in disguise.
She said: "That's not the case.
"We have a biodiversity plan and it's something that has been in place for a good while. It's not just suddenly come out of the blue. In addition to people who complain about grass being cut, you've got a lot of people who want to leave areas so that bumblebees and wildflowers and all the things that contribute to nature, and a good, healthy atmosphere, can be kept and enhanced.
"And I think there's been a lot of stuff on social media from various people, saying how much they've enjoyed the fact that there are more bumblebees, more birds, you know, things are looking greener. So again there's this balance to be had.
"But, I would have to say that my email inbox has been probably about three-quarters full of people who want us to do this, and maybe a quarter of people who would rather still see the grass cut.
"If people do come back and say: 'No, this is no good' we can go back and cut it."
Mr Alexander said one comment emailed to him – 'rugged over regimental' – had stuck in his mind, and said that people enjoyed the vibrancy of wildlife that can be seen when grass and wildflowers are left to grow.
He added: "There are a number of issues that I know get the Dundee public going, and I know grass-cutting is one of them, but I think it's getting the balance.
"We're not saying that we're leaving whole swathes of park entirely as biodiverse areas.
"These will be separate, distinct areas – the rest of the park will continue to be cut.
"So we're not preventing people from accessing parks and open spaces, but it's getting that balance right, because public opinion, very vocally over the last year, on climate change, on councils and governments taking action to address climate change, biodiversity, protecting the natural environment, was very clear.
The vast majority of costs associated with grass-cutting were staffing costs, Mr Alexander said.
He added: "There's no suggestion that we're going to need fewer people at this point in time, because we still need to do a hell of a lot of work across the whole city."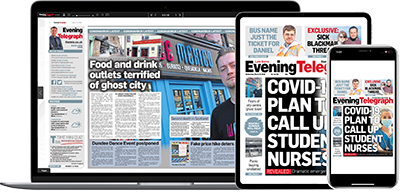 Help support quality local journalism … become a digital subscriber to the Evening Telegraph
Subscribe