Drone footage has caught a huge basking shark on camera swimming off the coast of Scotland.
The footage, shared by wildlife tour company Sea Wild Scotland, shows the gentle giant in the clear shallow water between Coll and Mull in the Hebrides.
James Fairbairns, skipper and owner of the tour company, said: "The sharks are a little bit later than usual but it's pretty normal to have them here by now.
"It's unusual that we would see on in shallow waters like that. It's the first time we've seen it in 20 odd years."
The drone footage was captured last during a wildlife trip, and James, 37, said tours to see basking sharks were steadily becoming more popular.
The footage comes just days after about 50 basking sharks were filmed off the coast of Oban.
They spend their summers in Scottish and northern waters before heading south for winter.
The basking shark is the second largest living fish and can grow up for 26ft. Despite their size, they are harmless to humans, surviving on plankton and small fish.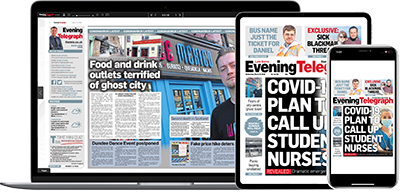 Help support quality local journalism … become a digital subscriber to the Evening Telegraph
Subscribe